Updated – Originally published 07/31/2017
Fat is a nutrient necessary for overall health. Our body uses fat for energy, insulation, and to help absorb vitamins A, D, E and K.
The Dietary Reference Intakes created by the Institute of Medicine recommends 20-35% of calories should come from fat.
Fat gets a bad reputation, but not all fats are the same. There are different types of fats: unsaturated fats (polyunsaturated fat and monounsaturated fat), saturated fat, and trans fat.

Unsaturated Fats
Monounsaturated fats and polyunsaturated fats should make up most of your daily fat intake. They may improve blood cholesterol levels and decrease the risk of heart disease and are found in nuts, seeds, oils – olive or avocado oil, avocado, nut butters.
Polyunsaturated fats are essential in our diet because our bodies do not produce these on their own. This includes Omega-3 fatty acids, which are the building blocks of cell membranes and may help to reduce the risk of coronary heart disease. These fats are found in fatty fish (examples: salmon, mackerel, herring, lake trout, sardines, and albacore tuna), walnuts, flax seeds, soy products, leafy vegetables, eggs and whole grains.
The 3 most common Omega-3 fatty acids are EPA, DHA, and ALA
– EPA (eicosapentaenoic acid) can help reduce inflammation in the body.
– DHA (ocosahexaenoic acid) makes up around 8% of brain weight, and is very important for brain development and function.
– ALA (alpha-linolenic acid) is mainly used for energy, and can be converted into EPA and DHA.
Omega-6 fatty acids are primarily used for energy in the body. Although omega-6 fatty acids are essential, they are over consumed in the Western diet. The recommended ratio of omega-6 to omega-3 fatty acids is 4:1 or less, but a typical Western diet is 10:1 up to 50:1. These fatty acids are found in corn oil, safflower oil, sunflower oil, soybean oil, nuts, and eggs.

Saturated Fats & Trans Fats
Eating too much trans and saturated fat is linked with higher risk of heart disease.
Trans fats are made from oils through a processing method partial hydrogenation, which can increase total cholesterol, LDL and triglyceride levels. These fats are found in baked goods, fried foods, margarine, and many fast foods.
Saturated fat can increase LDL and HDL levels and can be found in lard, butter, red meat, full-fat dairy, and tropical oils.
Coconut oil has increased in popularity over the past few years, because of its medium chain triglyceride (MCT) content, which are known to have health benefits. Less than 15% of the fat in coconut oil is MCT. Coconut oil is very high in saturated fat at 82% saturated fat. In comparison, butter is 63% and lard is 39% saturated fat. Some research has been done on the benefits, but there is no good scientific evidence that coconut oil has any health benefits.
Key takeaway: fat should be included as part of a well-balanced diet, but trans and saturated fats should be consumed in moderation.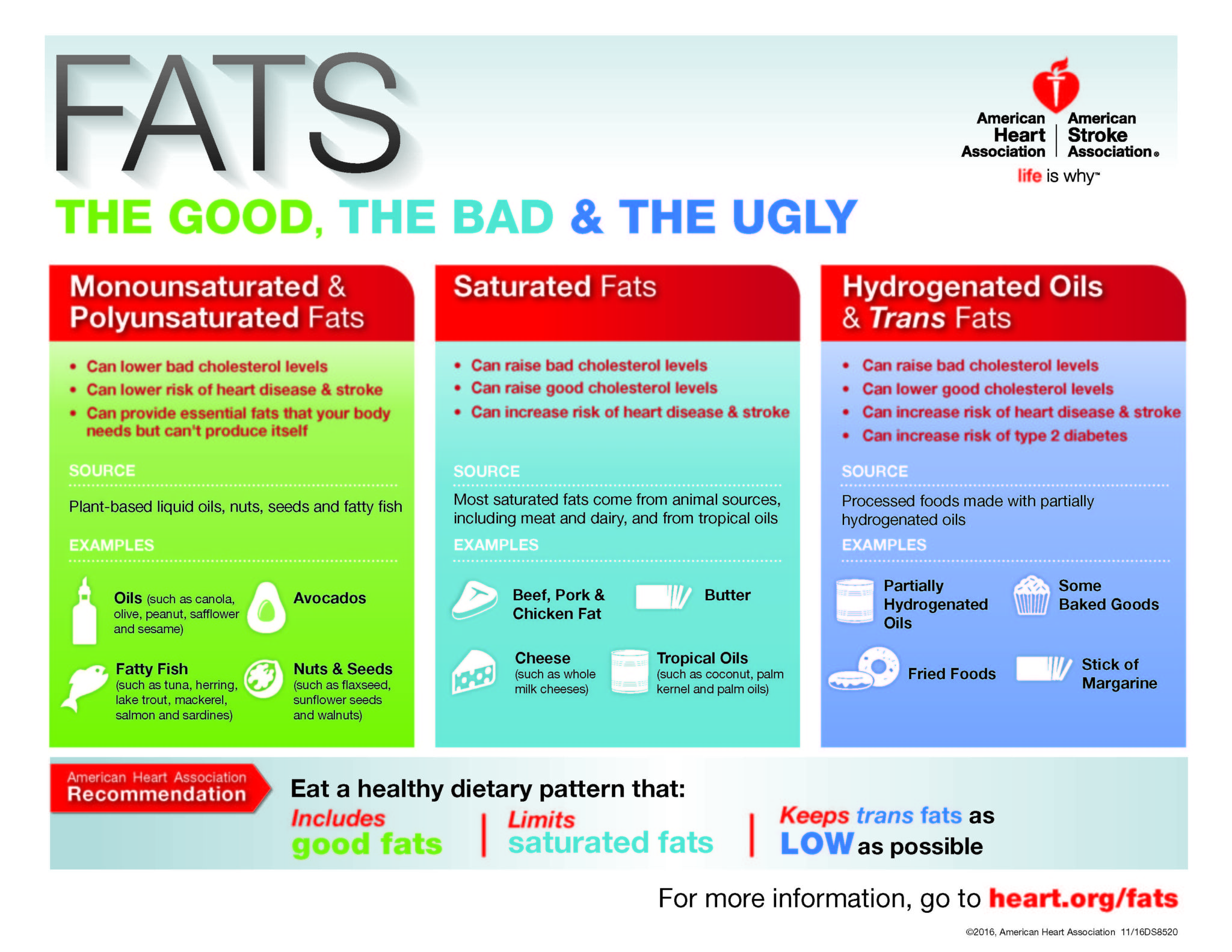 ///
Want to learn about Nutrition Coaching? Schedule a free 30-minute Nutrition Coaching Strategy Session to speak with our Registered Dietitian about your health goals and see if nutrition coaching would be a good fit for you.
Schedule a FREE 30-Minute Nutrition Coaching Strategy Session