At Performance, we want to be the stepping stone in your health beyond the gym. After your workout, treat yourself to one of our smoothies and shakes, without the guilt! Choose from over 15 different shakes to curve your sweet tooth, while giving yourself the nutrients your body needs. The Shake Bar offers delicious and healthy smoothies, recovery shakes, and specialty shakes.
Did you know you can order your shake or smoothie ahead of time so it will be done by the end of your workout? Stop by the Welcome Desk the next time you're at the gym and try one of our smoothies or shakes. Be sure to try our Shake of the Month!
SEPTEMBER SHAKE OF THE MONTH
Fall S'mores Shake
Step aside Pumpkin Spice Latte, our September Shake of the Month is here!
Our Featured Shake of the Month is the Fall S'mores Shake
The cool of Fall is upon us and nothing says Fall like making S'mores over an open fire! The Fall S'mores Shake is the perfect combination of vanilla protein, graham crackers, marshmallow fluff, and chocolate drizzle, to get you ready for the season!
*Available for a limited time
475 Calories

60g Carbs

8.5g Fat

38.25g Protein

18.5g Sugar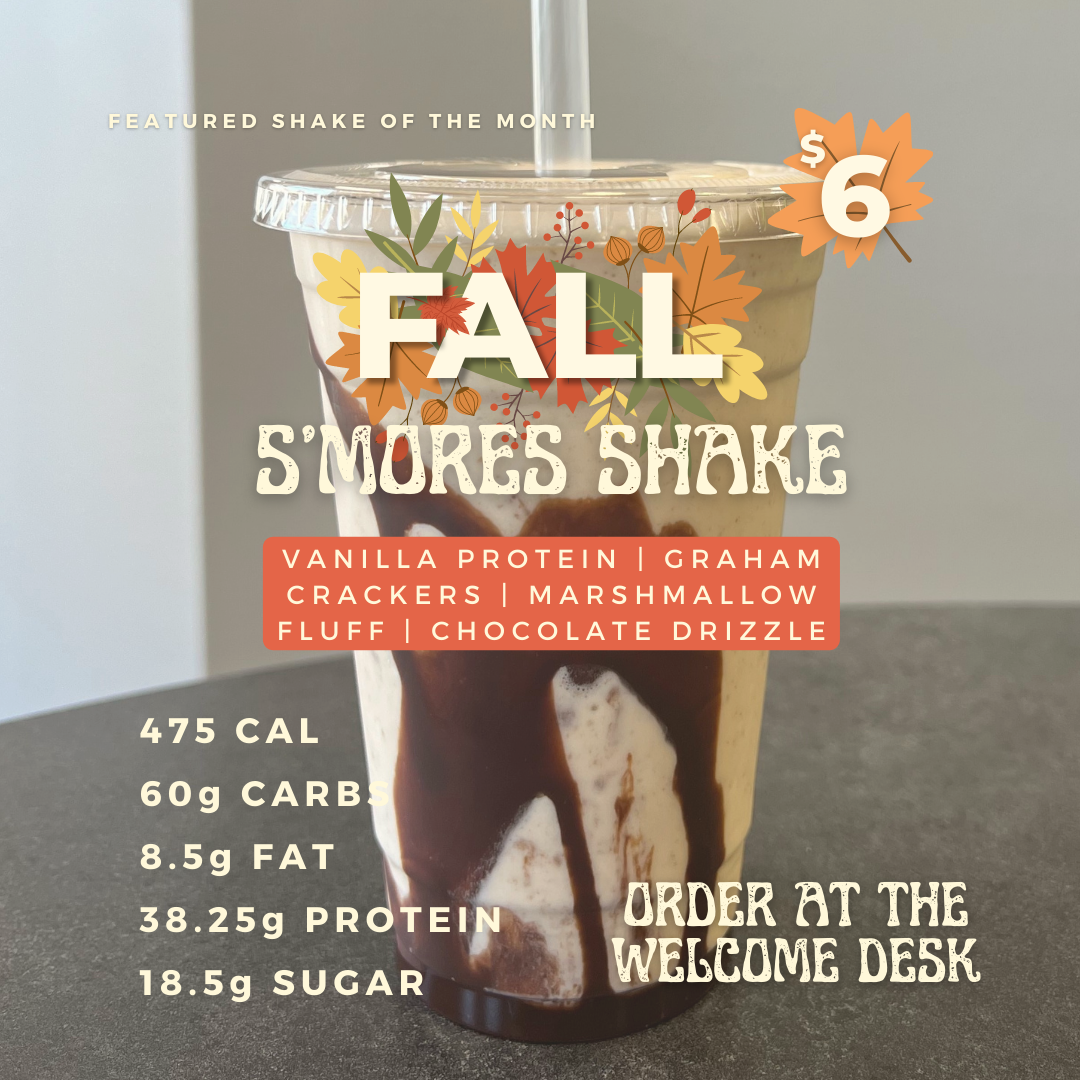 THE SHAKE BAR MENU
Recovery Shakes | $5.50 
Helps boost recovery and aid in muscle repair (20oz) | Contains whey-based protein
PB&J
This delightful blend of strawberries, blueberries, and PB2 will take you straight back to your childhood.
Calories 395 | Carbs 60g | Fat 5g | Protein 34g | Sugar 38g
Power Berry 
This fruity shake blends guava and raspberry juice with pineapple and strawberries. A flavorful treat for your taste buds.
Calories 422 | Carbs 57g | Fat 3g | Protein 30g | Sugar 42g
Berry Banana 
Get your antioxidants in this tasty treat that combines berries, banana, and chocolate.
Calories 430 | Carbs 72g | Fat 4g | Protein 32g | Sugar 46g
Popeye's Punch
Stay strong like Popeye! This tasty blend of banana, pineapple, and spinach provides optimal recovery after a grueling workout.
Calories 470 | Carbs 65g | Fat 4g | Protein 33g | Sugar 48g
Strawberry Banana
Get a taste of a classic treat with this combination of
strawberry, banana, and vanilla protein.
Calories 290 | Carbs 44g | Fat 2g | Protein 32g | Sugar 18g
Ice Cream Sundae
Just like a trip to the ice cream parlor, but better. This shake has over 30 grams of protein and tastes amazing!
Calories 358 | Carbs 45g | Fat 2g | Protein 30g | Sugar 27g
Specialty Shakes | $5.00 
Satisfy your sweet tooth after a tough workout (20oz) | Contains whey-based protein
Rise 'n Grind
A coffee lover's dream with a blend of coffee and chocolate that will give you the energy you need to power through the day.
Calories 270 | Carbs 32g | Fat 5g | Protein 30g | Sugar 4g
Peanut Butter Cup
Everyone's favorite combination- peanut butter and chocolate. You will think you are drinking a liquid peanut butter cup.
Calories 235 | Carbs 28g | Fat 5g | Protein 34g | Sugar 4g
Cookie Monster
It's like eating chocolate cookies straight from the cookie jar.
Calories 318 | Carbs 41g | Fat 8g | Protein 31g | Sugar 12g
Thin Mint
You'll think we have a Girl Scout troop on staff after tasting this blend of chocolate, mint and Oreos.
Calories 368 | Carbs 51g | Fat 8g | Protein 31g | Sugar 24g
No Bake Cookie
A yummy blend of PB2, chocolate and oats – there is a reason this shake has been a favorite for years.
Calories 312 | Carbs 44g | Fat 6g | Protein 36g | Sugar 4g
Candy Bar Craving
This delicious combination of chocolate, caramel, hazelnut, and PB2 tastes just like a Snickers bar.
Calories 237 | Carbs 29g | Fat 5g | Protein 34g | Sugar 4g
Funky Monkey
One of our best sellers at Performance, you will be sure to enjoy this satisfying combination of PB2, banana and hazelnut.
Calories 290 | Carbs 41g | Fat 3g | Protein 33g | Sugar 15g
Smoothies | $4.00
Packed with healthy fruits and veggies (20oz) | Do not include added protein
Tropical Twist
This tangy blend of guava, mango, pineapple and banana is sure to transport you to your favorite island getaway.
Calories 170 | Carbs 35g | Fat 0g | Protein 1g | Sugar 30g
Berry Passion
Full of flavor and loaded with antioxidants, this combination of berries will make your taste buds sing.
Calories 229 | Carbs 53g | Fat 2g | Protein 1g | Sugar 47g
Green Dream
Get your nutrient boost with this flavor packed smoothie that combines spinach, strawberries, and banana.
Calories 196 | Carbs 46g | Fat 1g | Protein 3g | Sugar 37g