WHAT
OUR
MEMBERS
ARE
SAYING
I LOVE coming into Performance to workout! It has all the machines I need to keep myself in as good a shape as a 75-year-old man can be. – D.S.
This is a fantastic gym! Great atmosphere – fun classes – fellow members keep you accountable! Personal trainers, plenty of equipment, friendly staff, and clean gym! – S.W.
Best gym in iowa city area 😊 – R.L.
Routine is changed up each time, and gives me a reason to get up in the morning and get going and instructors are totally awesome! – M.P.
Performance Health & Fitness has the very best instructors – Becky Erin Melissa Meg are all outstanding! – K.H.
Always enjoy my classes at Performance. Each class is different and every instructor is fun and engaging. Always feel like i got a great hour workout. – C.G.
PHF is the best gym in Iowa! All of the staff are friendly and courteous, the instructors are helpful and of the highest quality, and they're affiliated with a top-notch physical therapy clinic right next-door! The management at both PHF facilities is superb! – K.H.
Performance is not only a gym to workout in. It's about people, from staff to members caring about one another. – O.W.
ABOUT PERFORMANCE HEALTH & FITNESS
Performance Health & Fitness is your next gym home. We have a welcoming and supportive staff, an expansive selection of strength and cardio equipment, unlimited group fitness classes, a program to support members who want to make a change but don't know where to start, and award-winning personal trainers.
Try us out for free with a 7-Day Trial Gym Membership.
Offer for local, new visitors only. Must be 21 or older.
MONTH-TO-MONTH MEMBERSHIP OPTIONS
$29/month
Unlimited access to live-streaming group fitness classes (via Zoom).
$49/activation fee + $49/month
Unlimited access to our 25,000 square foot health club.
$99/month
Everything that comes with FIT but with a little extra – unlimited access to our TEAM Training classes.
As low as $119/month
Every benefit of our FIT and TEAM memberships, plus 4x personal training sessions per month with a certified personal trainer.
WHAT YOU'LL GET WITH ANY MONTH-TO-MONTH MEMBERSHIP
We don't just want members. We want to see our members succeed in reaching their goals and help them every step of the way. That's why all of our month-to-month memberships include far more than just a keytag – they include over $240 worth of complimentary personal training and health coaching sessions, unlimited access to group fitness classes, and more. We want every member to feel comfortable and confident about getting the most out of their gym experience. We know that if you have the knowledge and plan to live a healthy lifestyle, you'll stay committed to your health and wellness, and get the results you're looking for.
Unlimited Group Fitness Classes
Group Fitness classes are a motivating and fun way to challenge yourself and workout with friends. We offer several classes daily and offer a wide variety of class styles including Les Mills® branded workouts, cardio & strength classes, cardio dance and martial arts classes, spin and cycling classes, flexibility and strength with yoga and Pilates classes, and more.
Initial Consultation
Complimentary initial consultations are your opportunity to meet with our health coaches to discuss and establish specific and realistic goals based on the S.M.A.R.T. principle to start or continue your fitness journey. 
Fitness Assessment
After your complimentary initial consultation, you'll complete a fitness assessment to establish baseline results for our Five Components of Fitness: cardiovascular fitness, muscular strength, flexibility, balance, and body composition. 
60-Minute Personal Training Session
This complimentary personal training session is designed specifically for you based on your initial consultation and fitness assessment. During this session, you'll have the opportunity to get guidance from a certified personal trainer on how to best use the facility and equipment to reach your personal goals. 
Nutrition Coaching Strategy Session
Properly fueling your body for an active lifestyle is vital to reaching your goals, and our nutrition coaching strategy session will provide you with insight on how you can make food choices that will accelerate and enhance the results you see and feel from your training.
Body Composition Analysis*
In just 15 second, the InBody 270 gives you a comprehensive breakdown of your body composition into muscle, fat and water. With this information, you are able to see your individual BMR (how many calories you burn at rest) and if your muscle to fat ratio is within a healthy range to be at optimal health. We highly recommend starting your gym membership with a baseline scan to report so you can track your progress over time. *The InBody 270 scan and consultation with health coach is $40. 
Member Rewards Program
Get rewarded for working out with our member rewards program, Perkville. Once your register for your free Perkville account, your club participation is automatically tracked within your account. You'll earn points for check-ins, your birthday and gym membership anniversaries, referring friends and more. Redeeming points is easy and will earn you valuable items like free guest pass punch cards ,free shake, MyZone products and more.
Access to a Physical Therapist
One of the biggest perks of belonging to Performance Health & Fitness is having direct access to our on-site physical therapy clinic, Performance Therapies, P.C. If you're experiencing pain that won't go away, you can request a complimentary injury screening. These appointments are typically 30 minutes or less and are conducted by a Physical Therapist or Certified Athletic Trainer. Screens consist of a hands-on assessment and recommended treatment option.
ADDITIONAL SERVICES & PRODUCTS
BOOT CAMP
If you're looking for a 5-days-per-week program that will improve your overall fitness, Performance Boot Camp is for you. You'll be lead by a certified personal trainer through workouts that are functional and are guaranteed to make you stronger and healthier. You'll work hard, but also enjoy a fun and social atmosphere.
$85 MONTHLY ADD-ON
sign up →
SPORT & SPEED
Key elements that apply to all sports are speed, agility, strength, power, and endurance. At Performance Sport & Speed, we train athletes in grades 4-12 in these areas. Having trained over 3,000 athletes throughout the state of Iowa, we have developed a program that works to progress athletes to the next step in their careers, whether it's high school athletics, college athletics, or professional athletics.
$120 PER 6-WEEK SESSION
learn more →
NUTRITION COACHING
Our nutrition coaching services help individuals learn what and when to eat. Through nutrition coaching, you will be provided the resources and tools to fuel your body properly for everyday life and physical activity. Our evidence-based approach is individualized to help you form lifelong habits for success.
PLANS STARTING AT $125
sign up →
Featured Testimonial
Kari Kempf is a client that has seen tremendous success these past few months – on the scale and with non-scale victories. Despite the pandemic, she made a commitment to herself and her wellness goals and found a way to prioritize her health and daily habits. She considered that what she's done in the past on her own wasn't sustainable, and reached out to Performance Health & Fitness for help. She has been working with personal trainer, Jenny Vens. In addition, she has been utilizing the additional services that come with membership (TEAM Training classes as part of her personal training membership and the InBody 270 body composition scale).
Kari has been an inspiration to us all – a client that shares her goals and personal struggles, trusts our expertise, dismisses cultural misconceptions about wellness, and implements what she learns from Performance in her day-to-day life.
This is her inspiring story.
MEET THE PERFORMANCE TEAM
FROM THE PERFORMANCE BLOG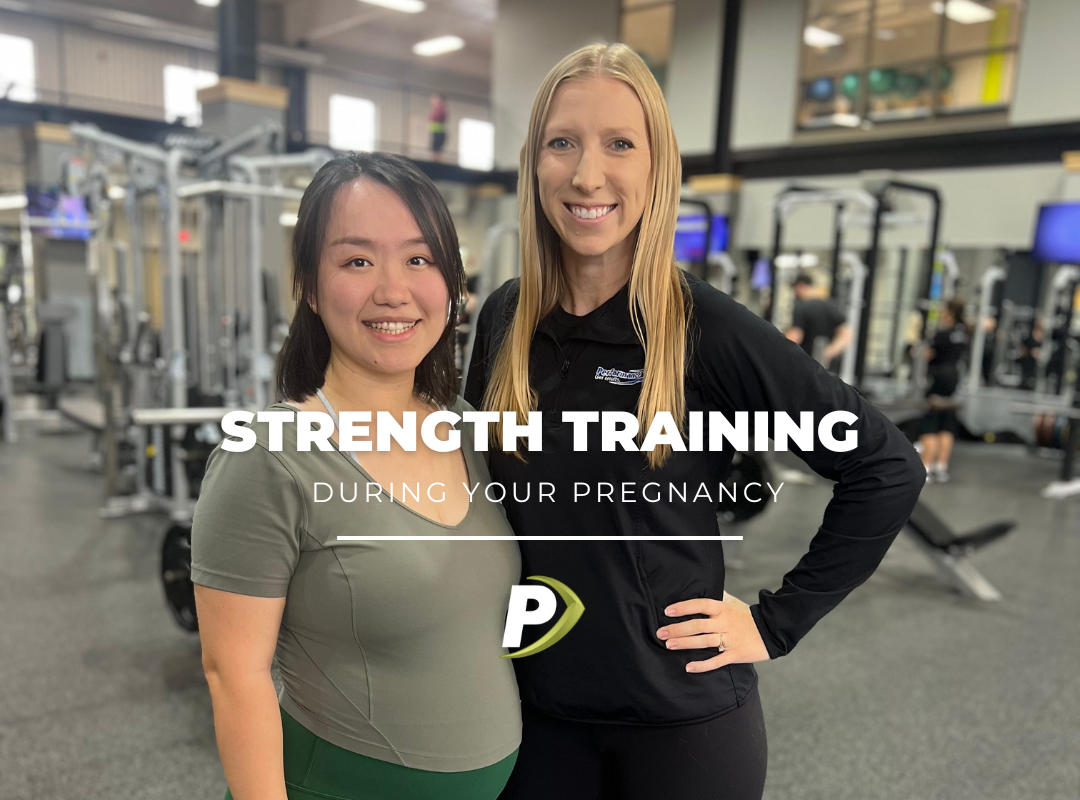 WOMEN'S HEALTH
Strength Training During Your Pregnancy
By: Jenny Comried, Certified Personal Trainer, Certified Health and Nutrition Coach
33 weeks pregnant and she is still lifting! Joyce is pregnant with her 2nd child and lifting heavier than she has before! With the green light from her OB, she decided this pregnancy, she would continue her fitness journey. Joyce has been training with Jenny since March of 2022 and has never felt better! We are in awe of the strength and power Joyce has! If you see her in the gym, watch out because she is lifting strong and heavy.