Myzone Wearable Heart Rate System
Monitoring your heart rate can help you get the best results!
Myzone is an innovative wearable heart rate based system that uses wireless and cloud technology to accurately (99.4%) and conveniently monitor physical activity.
This is the tool for anyone who wants an accurate, gamified, and motivating wearable. Myzone monitors heart rate, calories, time exercising, and converts that data into "Myzone Effort Points" (MEPs), with a focus on rewarding effort and intensity.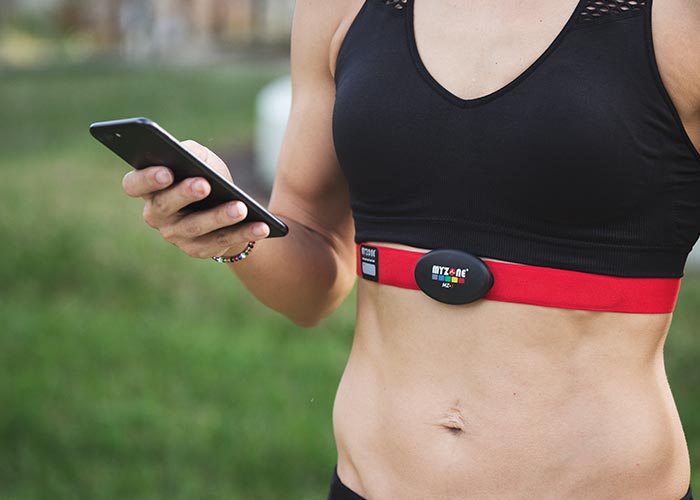 MYZONE meets your goals
Trust the wearable that keeps you motivated by tracking heart rate based intensity-not steps. Using a chest strap, you receive accurate BPM readings during all of your exercise activity.

MYZONE is user friendly
An easy-to-follow system measures your effort by multiplying length of time and intensity of each workout. Your effort is then easily tracked through the free MYZONE App so you can stay on track toward meeting your goals and seeing your effort rewarded.
MYZONE is affordable
Where most wearables cost $100-$600, MYZONE can be purchased for just $99 at Performance Health & Fitness.

The live display provides instant effort feedback.
Compete with friends and other Performance Health & Fitness members by earning MEPs + see real-time feedback on live tile monitors located in the club.

MYZONE vs. WRIST TRACKERS
Wrist trackers don't reward all your activity.
During a push-up, the wrist doesn't 'move' and the 'steps' are not counted. Burpees, pull-ups, lunges, box jumps, cycling, boxing and yoga are among the activities that wrist trackers aren't able to properly reward.
Wrist trackers prioritize irrelevant data.
General movement and sleep pattern data are prioritized by wrist trackers, but provide no relevant measurement or insight to your actual exercise habits.
Wrist-based heart rate detectors are innacurate.
Brands that use this technology state on their websites that the devices lose accuracy if you are moving in a non-rhythmical manner, clenching your wrist or moving your wrist.
The MYZONE belt, app and unique point system measure what actually matters for gym goers: exercise effort.
Learn more about the MyZone Heart Rate System
Want to learn more about the Myzone Wearable Heart Rate System before you decide on purchasing one? Stop by the Service Desk or fill out the form below and we'll reach out to you within two business days.