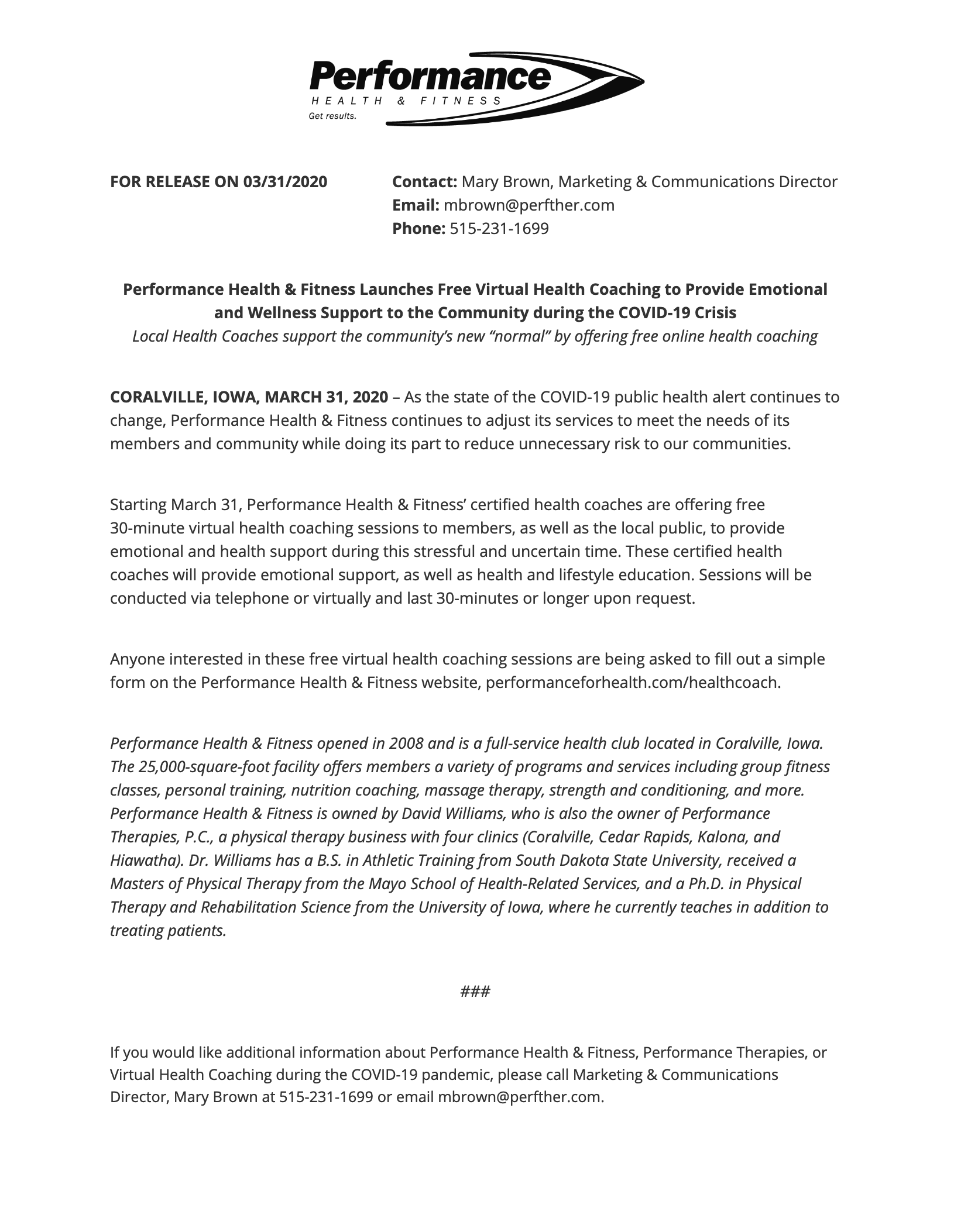 Performance Health & Fitness Launches Free Virtual Health Coaching to Provide Emotional and Wellness Support to the Community during the COVID-19 Crisis
Local Health Coaches support the community's new "normal" by offering free online health coaching 
CORALVILLE, IOWA, MARCH 31, 2020 – As the state of the COVID-19 public health alert continues to change, Performance Health & Fitness continues to adjust its services to meet the needs of its members and community while doing its part to reduce unnecessary risk to our communities.
Starting March 31, Performance Health & Fitness' certified health coaches are offering free 30-minute virtual health coaching sessions to members, as well as the local public, to provide emotional and health support during this stressful and uncertain time. These certified health coaches will provide emotional support, as well as health and lifestyle education. Sessions will be conducted via telephone or virtually and last 30-minutes or longer upon request. 
Anyone interested in these free virtual health coaching sessions are being asked to fill out a simple form on the Performance Health & Fitness website, performanceforhealth.com/healthcoach.
Performance Health & Fitness opened in 2008 and is a full-service health club located in Coralville, Iowa. The 25,000-square-foot facility offers members a variety of programs and services including group fitness classes, personal training, nutrition coaching, massage therapy, strength and conditioning, and more. Performance Health & Fitness is owned by David Williams, who is also the owner of Performance Therapies, P.C., a physical therapy business with four clinics (Coralville, Cedar Rapids, Kalona and Hiawatha). Dr. Williams has a B.S. in Athletic Training from South Dakota State University, received a Masters of Physical Therapy from the Mayo School of Health-Related Services, and a Ph.D. in Physical Therapy and Rehabilitation Science from the University of Iowa, where he currently teaches in addition to treating patients.
###
If you would like additional information about Performance Health & Fitness, Performance Therapies, or Virtual Health Coaching during the COVID-19 pandemic, please call Marketing & Communications Director, Mary Brown at 515-231-1699 or email mbrown@perfther.com.