Fall is around the corner. Kids are back in school and most parents now have time to get back into a new routine to incorporate more physical activity.
With the year 2020 now behind us and 2021 coming to an end, we are now eager to start working on ourselves, but at times we tend to get overwhelmed with the all-or-nothing attitude and burn out too quickly.
My suggestion to battle this is to just start small with just 10,000 steps per day.
It is necessary to incorporate cardiovascular exercise that gets your heart rate up to a certain range, strength training to build muscle and strong bones, as well as incorporating flexibility training so that you have a well-rounded routine to keep your body in optimal shape. After the year we had last year, I strongly suggest that you start small and build on that for longer-lasting results.
We have all heard that we need to get 10,000 steps per day but do most of us really know the reason why?
We currently live in a society where not everything is within walking distance so we have to utilize other transportation to get us from point A to point B. Usually, this means that we spend more time throughout the day sitting rather than moving our bodies as our ancestors did.
In order to be more like our ancestors, we should move our bodies around more throughout the day to help contribute to health benefits. It has been said that we all needed to hit a bare minimum of 10,000 steps per day.
I chose this as our monthly challenge because incorporating this daily task is very realistic for people who either complete 30 minutes of daily activity into their day or someone that sets an alarm for every hour to make sure that they hit their steps at the office.
Anyone can achieve this daily goal no matter where you do it.
Help yourself to fall back into a routine without the overwhelming feeling that you have to do x,y, and z to achieve your health goals.
It takes 21 days to create a habit and 90 days to create a lifestyle.
Start small at first until you are ready to take on another daily habit that helps you to achieve optimal health.
Other tasks that are pretty easy to implement are staying hydrated every day. This means that your urine color is either pale yellow or clear throughout the day. You don't necessarily have to drink half of your body weight in ounces of water to achieve this as you get 20% of your hydration needs through food.
Another one is working on your quality of sleep by establishing a consistent routine of going to bed at the same time every day to reset your natural circadian rhythm.
The next best is to incorporate some strength training at least 2 times a week for 30 minutes and then last but not least is to work on your daily nutrition.
I put this last because it tends to be the hardest habit for people to break and we want to make sure that the habits we choose to work on that we are absolutely 100% ready to implement on a daily basis to help us stick to them for a longer period of time.
Achieve this small goal of only 10,000 steps per day for a month, then who knows what you will accomplish in the last 90 days of 2021 🙂
Need help keeping yourself accountable? Download our FREE 10,000 Steps Wellness Challenge Accountability Worksheet.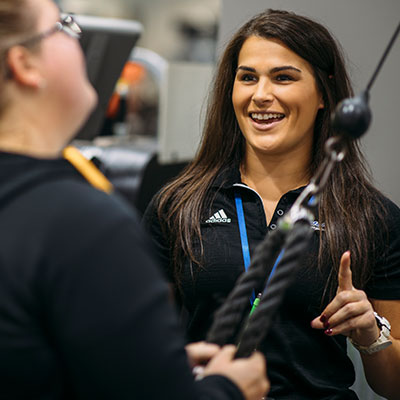 About Lynde Weatherford
Director of Training Services, Certified Personal Trainer & Health Coach
NSCA Certified Personal Trainer; AFPA Nutrition and Wellness Consultant
Lynde has been a personal trainer for 10+ years and couldn't be happier with her career choice. With her parents as inspiration along with her high school years as an athlete, she acquired a true passion for health and wellness. Lynde enjoys showing others what they are capable of to achieve their health and fitness goals. During her years as a trainer, she has been able to help others achieve weight loss, gain muscle mass, live a better quality of life, and teach them skills they can use for the rest of their lives. It is her goal to coach those who think they can't do it to thinking that they can achieve what they want despite what may be currently challenging them. She looks forward to speaking with Performance members to develop an individualized plan of action for achieving health and fitness goals.
///
Want to learn more about Personal Training, Health Coaching, Nutrition Coaching, TEAM Training, or Senior Fitness/Senior Personal Training at Performance Health & Fitness? Sign up for a FREE 30-Minute Strategy Session with a certified personal trainer and we'll help you find the resources and information needed to reach your personal goals.
Complimentary Initial Consultation Request