Did you know the body is made up of approximately 50-60% water?
A specific amount of water must be consumed each day in order to survive – an amount that varies by person based on individual needs. For everyone, maintaining proper hydration is essential to regulate blood volume and maintain body temperature, which is especially important during exercise. During the month of May, we will be hosting a hydration challenge, which is a great opportunity for you to focus on improving your daily hydration habits.
Benefits of hydration during exercise:
Delays fatigue
Maintains mental focus
Helps with agility
Reduces stress on the heart
Improves regulation of body temperature
Aids with recovery
Impact of dehydration during exercise:
Increased body temperature
Fatigue
Headaches
Nausea and/or vomiting
Increased heart rate
Decreased blood pressure
Muscle cramping
Signs of dehydration include dark urination, infrequent urination, weight loss and muscle cramping
The best way to gauge hydration status is by monitoring urine color and amount: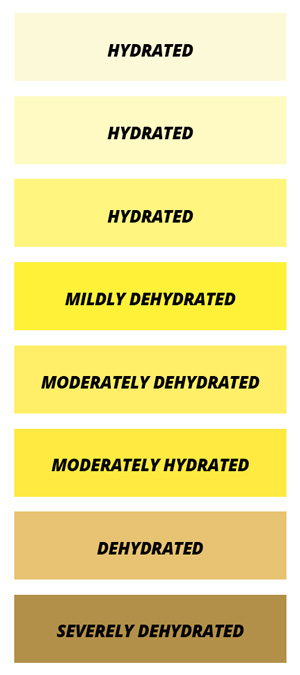 Pre-exercise hydration:
The goal is to begin activity well-hydrated to minimize injury, fatigue, and muscle cramping, and aid in performance. Athletic performance can decline with as little as 2% decrease in hydration status, so it is important to stay ahead with hydration. The following chart is a good guide to estimate how much fluids to consume before a workout:
| | |
| --- | --- |
|  Bodyweight | Oz. of fluid |
| <100lbs | 8-12 |
| 100-119lbs | 8-14 |
| 120-139lbs | 8-18 |
| 140-159lbs | 10-20 |
| 160-179lbs | 12-22 |
| 180-199lbs | 12-16 |
| 200-219lbs | 14-28 |
| 220-239lbs | 16-30 |
| 240+lbs | 16-32 |

During exercise hydration:
The goal is to maintain hydration throughout activity to maximize performance and improve your body's ability to recover. Not only is hydration from water necessary, but it is also important to maintain electrolyte balance during exercise. Electrolytes – sodium, potassium, magnesium, and calcium – are essential in carrying out many body functions. When electrolyte imbalances occur it can lead to muscle cramping, fatigue, dizziness, nausea, constipation, confusion, and even fainting.
The following is a good guide to help maintain fluid and electrolyte balance during exercise:
Activity less than 60 minutes or moderate-intensity | only water is necessary for fluid replacement
Aim for 20oz/hour of water or 4oz every 15 minutes
Activity more than 60 minutes or high intensity | an electrolyte replacement drink is preferred
Aim for 4oz sports drink every 15 minutes
Electrolyte replacement is especially important in hot and humid conditions. Experiment during training to find the types and amounts of fluids that work for you.
Post-exercise hydration:
It is important to include fluids and electrolytes as part of your post-workout recovery to replace what was lost during exercise. The most accurate way to find out how much to consume post-exercise is to calculate your sweat rate. This will show you how much fluids were lost during exercise, and how much fluid to consume based off of the amount lost. If exercise is longer than 60 minutes a combination of water and electrolytes is the best to restore hydration status and electrolyte balance.
How to calculate sweat rate:
Weigh yourself prior to exercise
Weigh yourself immediately after exercise
Pre-workout weight minus post-workout weight = Sweat rate
| | |
| --- | --- |
|  Pounds lost | Fluid Ounces within 30 minutes |
| 0-1 | 18-22 |
| 1-2 | 22-44 |
| 2-3 | 44-64 |
| 3+ | Consult with physician or dietitian |
Tips to stay hydrated:
Drink water throughout the day. Leave a reusable water bottle or glass at your desk at work to refill throughout the day.
Fruits and vegetables have high water content and can boost fluid intake. Examples of foods with high water content include – cucumbers, watermelon, mixed greens, eggplant, apple, tomatoes, cantaloupe, zucchini, bell peppers, pears, pineapple, carrots, mango, grapefruit, orange, broccoli, berries, celery, grapes, and kiwi.
Consume adequate fluids before, during, and after exercise.
Drink sports drink if exercise is longer than 60 minutes, or in hot and humid conditions, to reduce the risk of fluid-electrolyte imbalances. Electrolyte replacement drinks can be store-bought or home-made (check out our homemade Piña Colada Refresher Recipe here). My favorite store-bought electrolyte drink is Nuun Hydration tablets that can be used in any water bottle or glass of water.
Limit sugary beverages like soda or juice, coffee drinks, and energy drinks, which can be dehydrating.
The Performance Health & Fitness Hydration Challenge
We recommend finding small ways to improve your overall health and wellness every day. One habit that takes time and persistence to learn is drinking enough water throughout the day. It sounds easy enough, but how often do you find yourself at lunch time realizing you haven't had any water to drink all morning? How often do you forget to bring a water bottle to work and find it's too inconvenient to take multiple trips to the water fountain?
To help encourage small habits that can make a big impact, we're hosting a month-long hydration challenge. The rules are simple: weight yourself. Divide your body weight in pounds by two (half). That number is how many ounces of water you should aim to drink per day. For each day you reach your goal, fill in the water drop. To give yourself extra motivation, start the challenge off by identifying what a reasonable reward should be that's personal, desirable, and attainable. Perhaps a new reusable water bottle for your office or car? 🙂
Join the fun – download the FREE hydration challenge worksheet here.

///
Want to learn about Nutrition Coaching? Schedule a free 30-minute Nutrition Coaching Strategy Session to speak with our Registered Dietitian about your health goals and see if nutrition coaching would be a good fit for you.
Schedule a FREE 30-Minute Nutrition Coaching Strategy Session