The fun summer days are coming to an end. As you head back into your children's school activities, it is important to stay consistent with your new routines. Putting your children first will be your top priority as a parent. Be mindful to take care of yourself. One way to keep yourself a priority is to have health + wellness goals!
Health + Wellness Coach, Lynde, provides the parents and guardians daily tips on how to make each day run smoothly. These tips will hopefully give guidance on how you can take the personal time you deserve so you can be your best for your kids!
Here are 9 tips on how to make each day run smooth: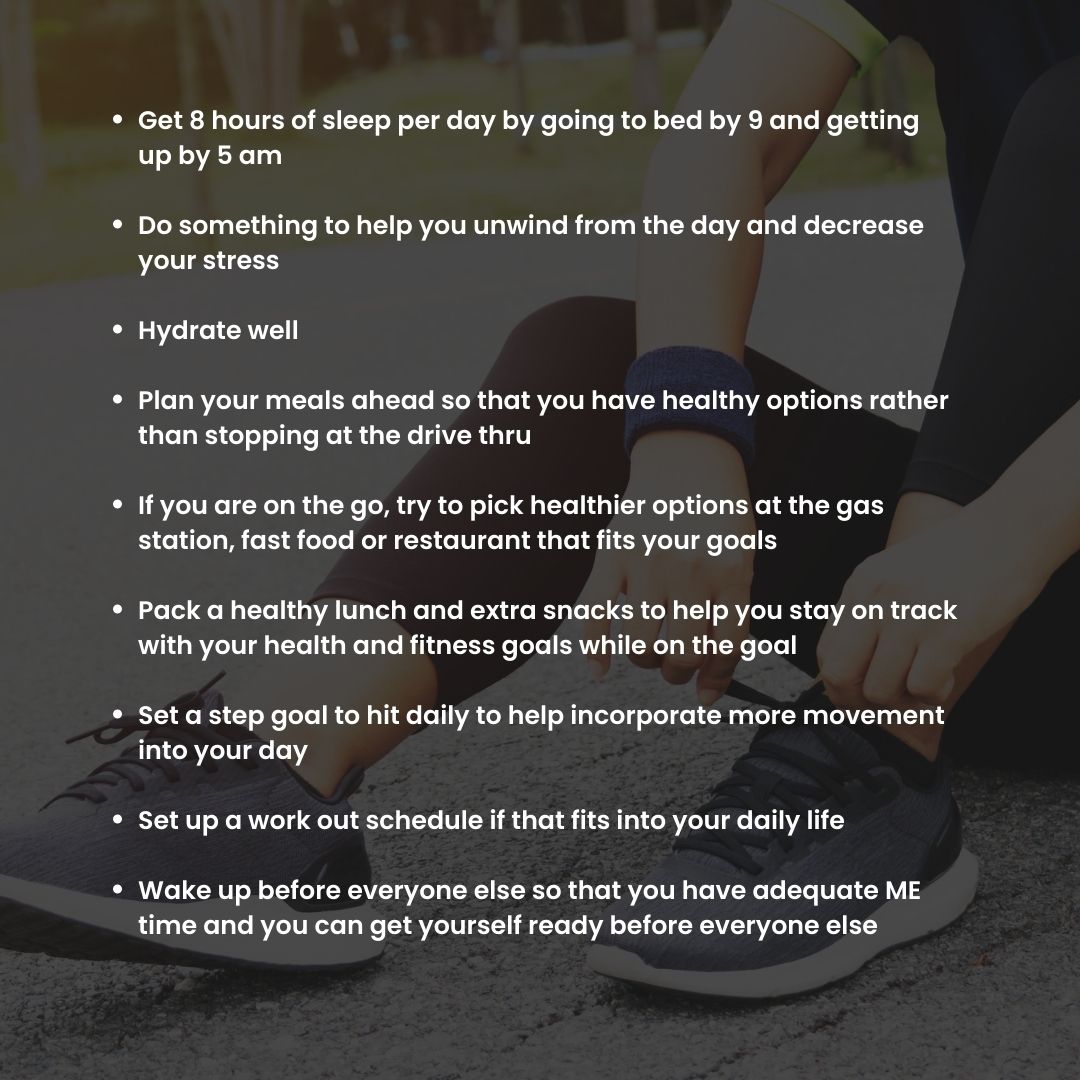 Every family has a different schedule that works for them. Creating a routine and template will decrease the feeling of being overwhelmed and stressed during this changing time period. To start, try to choose 3 things that you are going to add that will help you stay on track and build from those habits.
There are many things that you can incorporate to lead a healthy lifestyle. In reality, finding time to come to the gym to help keep your body healthy can be difficult to incorporate amongst all of your other things you have in your calendar. To help keep you accountable and motivated, you might schedule a Group Fitness Class or schedule training sessions with a trainer to make sure you fit it in. Accountability from other participants in class or from a trainer are a great way to keep you motivated when you are busy.
These tips are here to guide you and help eliminate stress. Creating a routine is important for your family and yourself. Remember, you are a priority too!
///
Want to learn more about Personal Training, Health Coaching, Nutrition Coaching, TEAM Training, or Senior Fitness/Senior Personal Training at Performance Health & Fitness? Sign up for a COMPLIMENTARY initial consulation with a certified personal trainer and we'll help you find the resources and information needed to reach your personal goals.
Complimentary Initial Consultation Request