By Emma Hogan for Fit Planet courtesy of Les Mills.
We all know that yoga is good for us… but why exactly? Always on the hunt for answers, we've pulled together some of our favorite facts about yoga – highlighting all the benefits that come from getting your 'Om' on.
As you can imagine, there have been plenty of studies performed over the years examining the effects of yoga. These studies have found that regular yoga can benefit a number of health factors and produce significant effects on psychological wellbeing. Here's what you need to know …
Yoga can work wonders for psychological health
Yoga is beneficial when it comes to reducing stress. Research shows it is effective in treating emotional-stress-related conditions when compared with mindful exercises such as qigong and tai chi.
Research shows the effects of yoga on depression were comparable to that of pharmacological treatment, group therapy, social support groups, and massage.
Due to its good compliance and lack of drug interactions, research shows yoga appears to be safe and could be encouraged to improve quality of life and, perhaps ease the symptoms of stress and anxiety.
There are physiological health benefits
Yoga has moderate effects on physical fitness (strength, cardiorespiratory function) and function (balance, walking speed) in older adults.
The studies comparing the effects of yoga and exercise indicate that, in both healthy and diseased populations, yoga may be effective at improving a variety of health outcomes including blood glucose (helping to avoid diabetes), blood lipids, and stress indicators.
Small beneficial effects were seen in triglycerides, high-density lipoprotein (HDL). cholesterol and diastolic blood pressure. Given the limited evidence to date, we are unable to determine the effects of yoga in the primary prevention of cardiovascular disease.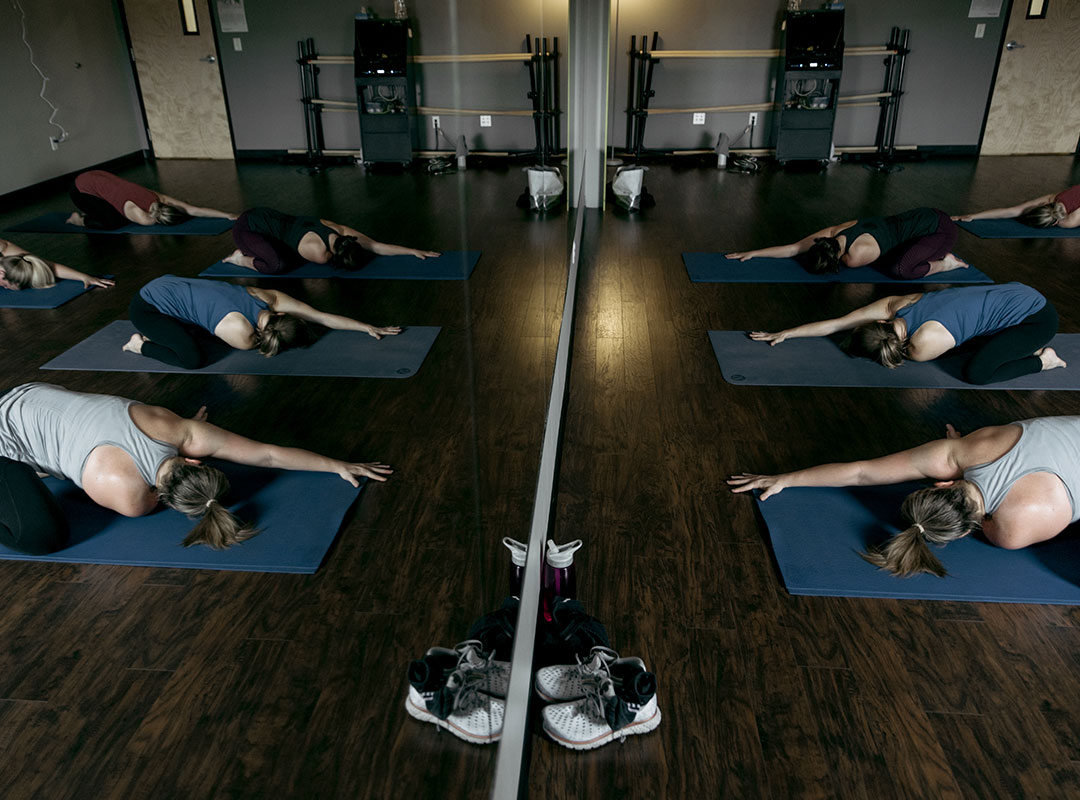 Yoga benefits body composition
Yoga is shown to be an appropriate and potentially successful intervention for weight maintenance, prevention of obesity, and risk reduction for diseases in which obesity plays a significant causal role. Gradual, moderate reductions in weight and Body Mass Index were seen across the majority of interventions when practiced for 60 minutes, three times per week for three months or more.
Yoga practice is an effective method to reduce body weight in overweight adults.
There are plenty of other benefits too
Yoga can be advantageous for pregnant women
Studies show a prenatal yoga program results in benefits during pregnancy as well as throughout labor and birth. Improvements were observed on psychological factors during pregnancy and labor, on physical and pain measures during labor, and on birth weight and the number of preterm births. To find out more about the benefits of exercising during pregnancy click here.
Keen to learn more about the science of yoga? Check out this interview with yoga-expert, Pam Jeter.
This piece originally appeared at lesmills.com.
///
Would you like to try a Group Fitness Class (or two) at Performance Health & Fitness? Contact us now and we'll get in touch with you ASAP regarding a FREE Group Fitness Class Pass.