The
Fight with Flash Foundation
 is hosting it's 6th Annual Fight with Flash Charity Golf Classic this Friday (September 10th, 2021) at
Finkbine Golf Course
in Iowa City.
The Fight with Flash foundation was created to honor Austin "Flash" Schroeder, who passed away at the age of fifteen from T-cell Lymphoma. Austin's positive energy, zest for life, and "Win the Day" attitude continues to inspire, motivate, and transcend those near and far.
Last year the event raised just over $40,000 and the proceeds from this, as well as other fundraising efforts, allowed the Foundation to donate a check for $50,022 to the AYA (Adolescent & Young Adult Cancer Program) at the University of Iowa Children's Hospital! Every dollar raised goes directly toward supporting the AYA program, as well as the families fighting this horrible disease.
The goal for the 2021 event is $65,000 – which we're going to try and help them reach.
We're starting with a 6-Month FIT-Level Gym Membership for them to include in their event silent auction, as well as complimentary day passes for their golfers + volunteers (all 170 of them). We would also like all of you, our Performance Family, to do what you can to help out this organization – either in time for their event on Friday or on an ongoing basis.
For more details or to get involved, please visit fightwithflash.org.
///
Event Update!
From the Fight with Flash Foundation Instagram Account >>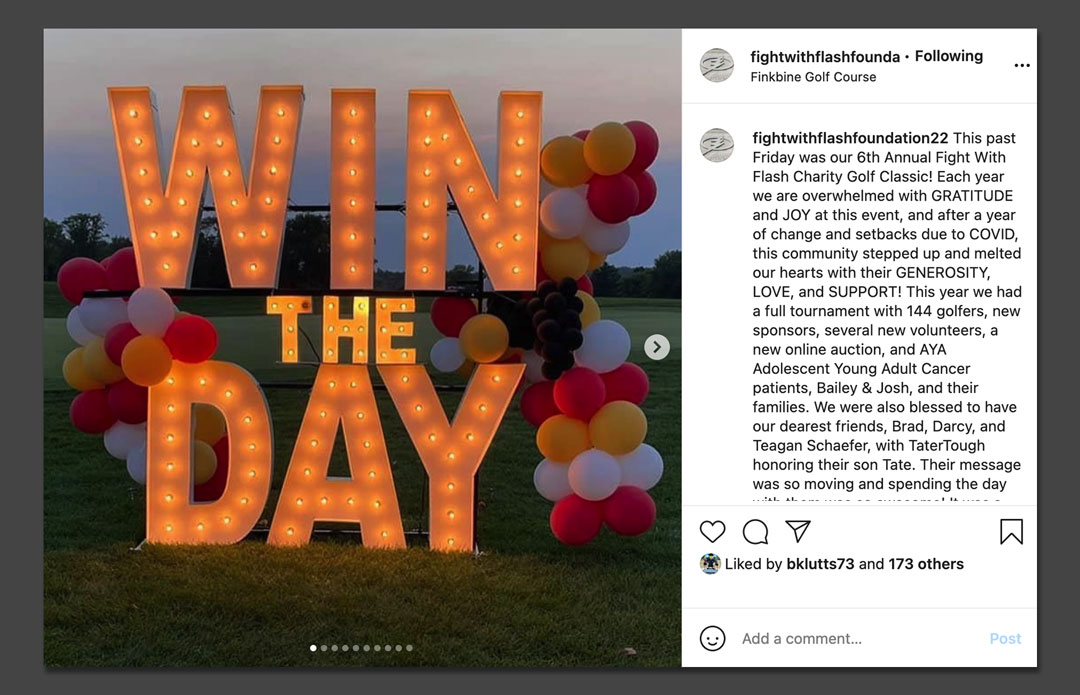 This past Friday was our 6th Annual Fight With Flash Charity Golf Classic! Each year we are overwhelmed with GRATITUDE and JOY at this event, and after a year of change and setbacks due to COVID, this community stepped up and melted our hearts with their GENEROSITY, LOVE, and SUPPORT! This year we had a full tournament with 144 golfers, new sponsors, several new volunteers, a new online auction, and AYA Adolescent Young Adult Cancer patients, Bailey & Josh, and their families. We were also blessed to have our dearest friends, Brad, Darcy, and Teagan Schaefer, with TaterTough honoring their son Tate. Their message was so moving and spending the day with them was so awesome! It was a beautiful and perfect day!
At the outing, we talked about the Starfish Story, that Everyone Matters, and that each of us can make a difference! It is with pure JOY to announce that this year because of ALL the LOVE and GENEROSITY shown, we raised $90,000!!! WOW!!! We are absolutely blown away and our hearts are so FULL!!!
We are so thankful for the FWF Foundation Board Members, the FWF Golf Committee, Finkbine Golf Course, the volunteers, all the sponsors and people who donated in kind donations, all the golfers and people who spent money, bought swag, and bid on the auction! Please see attached photos of sponsor signage from this years event.
We certainly know Austin is SO PROUD of all the work and accomplishments made to help others fighting this horrible disease! We won't stop fighting until we get that CURE!
On behalf of Austin, the U of I Hospital, all the patients fighting this horrible disease and their families, and the FWF board, we THANK YOU!!!!
The Schroeders
Craig Schroeder
Stacy Schroeder
ABOUT PERFORMANCE HEALTH & FITNESS
Performance Health & Fitness is your next gym home. We have a welcoming and supportive staff, an expansive selection of strength and cardio equipment, unlimited group fitness classes, a program to support members who want to make a change but don't know where to start, and award-winning personal trainers.
Try us out for free with a 7-Day Trial Gym Membership.
Offer for local, new visitors only. Must be 21 or older.
Performance Health & Fitness
3290 Ridgeway Drive, Suite 1
Coralville, Iowa
Located just East of Hwy 965 on Forevergreen Road. The right entrances are for Performance Therapies and Ridgeway Dental. The doors on the left of the building lead to Performance Health & Fitness' main entrance.