Owner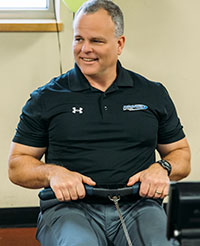 David Williams
Owner of Performance Therapies and Performance Health and Fitness; Physical Therapist
Performance Therapies – Coralville
Credentials: B.S. in Athletic Training; Iowa Athletic Trainer License; Certified Strength & Conditioning Specialist; Master of Physical Therapy; Iowa Physical Therapy License; Ph.D. in Physical Therapy and Rehabilitation Science; Associate – University of Iowa Graduate Program in Physical Therapy
When David was 14, he tore his ACL and since there was no physical therapy in his area he found books on it and rehabilitated himself. From that point on, he knew that was the only career he ever wanted to pursue. He believes that if you place the well-being and concern of your patient/client as the focus of your treatment, everything else will take care of itself. In his free time, David enjoys attending his kids' activities, helping coach their teams and doing almost every outdoor activity.
Administration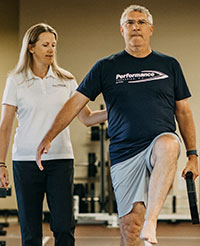 Bob George
CFO and Director of Administration
Credentials: Certified Public Accountant; B.S. in Business Administration
Bob has broad experience as director of finance for medium and small employers in a variety of industries. With his strategic vision and financial background, Bob is excited to help take Performance to new horizons. On a personal note, Bob enjoys spending time with his family, especially his 9-month-old grandson, jogging, traveling and refereeing high school football.
Administration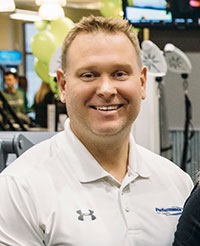 Brock Reed
General Manager
Credentials: B.A. in Business & Sports Administration
Brock has always loved the idea of working in a field that influences others' decision to live a healthier life. His favorite aspect of working at Performance is getting to know members and seeing their commitment to achieving their goals. In his spare time, Brock enjoys golfing, home improvement projects, auto detailing and spending time with family and friends.
Member Services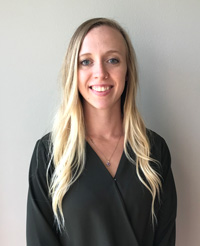 Erica Jordan
Member Services Director
Credentials: B.S. Exercise Science
Erica Jordan is the Member Services Director for Performance Health & Fitness. She helps new and current members learn more about everything Performance has to offer, and is your go to person if you have any questions about membership. Her whole career has been in the health, wellness, and fitness industry to help others and lead teams to reach their full potential. She believes you need to treat others with respect and have pride in everything you do.
She shares her home with her fiancé Jon and big pup Fischer (Bernese Mountain Dog). If you are also an animal lover feel free to stop me at any time to share photos.
Administration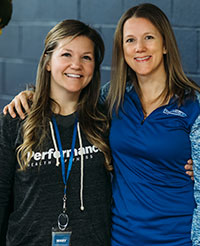 Mary Brown
Marketing & Communications Director
Mary Brown has a bachelors degree from the University of Northern Iowa and has over 15 years of marketing, advertising, and project management experience. Prior to coming to Performance, she spent several years working a with Boston-based CrossFit Equipment company in their marketing department, which is where she gained valuable working knowledge of brand management, website design and maintenance, and search engine optimization.
When she's not working she loves to run the trail system by her house in Iowa City, Olympic Lift and spend time with her family.
Nutrition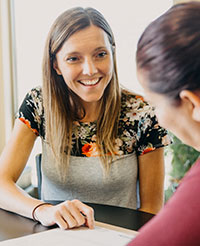 Ashley Pearson
Registered Dietitian
Credentials: B.S. Dietetics – Iowa State University; MBA – Dominican University; Registered Dietitian Nutritionist (RDN) – Commission on Dietetic Registration, Licensed Dietitian Nutritionist (LDN) – IDPH Board of Dietetics
Ashley has been passionate about nutrition and physical activity since high school, where she developed her love for running. She has been an avid runner since completing multiple marathons, and other road races. She understands how to properly fuel your body before, during, and after a workout, race, or game to improve performance. Ashley uses factual, evidenced-based information to provide individualized plans to help you understand your nutritional requirements and reach your personal goals.
She has had a variety of experiences from the food industry, to sports nutrition, to inpatient care. Ashley spent 5 years in the Chicago area specializing in weight management and medical nutrition therapy for chronic diseases. Since joining the Performance team in 2017 she has  specialized in weight management and sports nutrition. In her free time, she enjoys spending time with her husband and daughters, running, being outside, cooking and traveling.
Group Fitness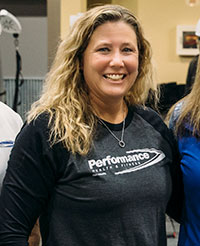 Becky Klutts
Group Fitness Manager
Credentials: B.S. in Recreation and Leisure Studies; Certified in BodyPump, BodyVive, CXWorx, Spin and Pilates
Sports, exercise and being active have always been an important part of Becky's life. She loves motivating participants during class and enjoys encouraging people to try new activities and achieve their goals. Working with kids has been a part of her life since she was 9 years old. She loves watching them learn new skills, conquer their fears, and grow and progress daily. Becky enjoys teaching both adults and kids, encouraging and motivating in every class! Outside the gym, she loves reading, doing triathlons, running, tennis and spending time with her family.
Personal Training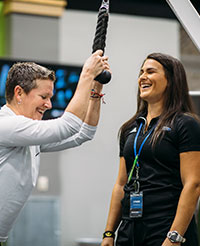 Lynde Weatherford
Director of Training Services; Personal Trainer; Health Coach
Credentials: NSCA Certified Personal Trainer; AFPA Nutrition and Wellness Consultant
Lynde has been a personal trainer for five years and couldn't be happier with her career choice. With her parents as inspiration along with her high school years as an athlete, she acquired a true passion for health and wellness. Lynde enjoys showing others what they are capable of to achieve their health and fitness goals. During her years as a trainer, she has been able to help others achieve weight loss, gain muscle mass, live a better quality of life and teach them skills they can use for the rest of their lives. It is her goal to coach those who think they can't do it to thinking that they can achieve what they want despite what may be currently challenging them. She looks forward to speaking with Performance members to develop an individualized plan of action for achieving health and fitness goals.
Personal Training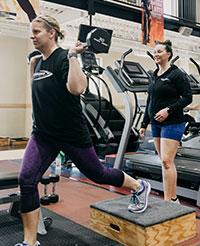 Suzi Albers
Director of TEAM training, Personal Trainer, Health Coach, Pre and Postpartum Coach
Credentials: B.S. in Athletic Training, Certified Athletic Trainer, Certified Strength and Conditioning Specialist, Certified Health Coach, and Certified Pre and Postpartum Coach
Suzi's life-long passion for health has led her into 10 plus years of helping others achieve health-related goals. She enjoys helping a wide range of clientele reach their health and fitness goals through individualized fitness programs while incorporating behavioral changes for long-lasting results. She excels in post-injury return to being active and believes pre and postpartum health and education is much needed in the fitness world. She believes that every person has the right to a healthy and happy lifestyle. Suzi enjoys being active through strength training and HIIT style training. She enjoys spending time with her husband and 2 boys partaking in whatever adventure life throws them.
Personal Training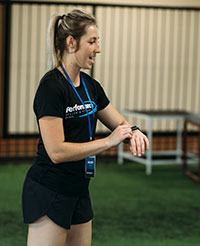 Kelsey McCrea
Personal Trainer
Credentials: B.A. Health and Human Physiology- Exercise Science, ACSM Certified Personal Trainer
Kelsey has always had a passion for sports and helping people growing up with an athletic background. She combined her passion at the University of Iowa where she graduated in 2016 with an Exercise Science degree. Since then she has gained experience through rehabilitation internships at hospitals, working with the University of Iowa football team and personal training. She enjoys working with clients of all ages, motivating and pushing them to new fitness limits while building relationships. In her free time Kelsey loves spending time with friends and family, being outdoors, traveling, playing volleyball and going to sporting events.
Personal Training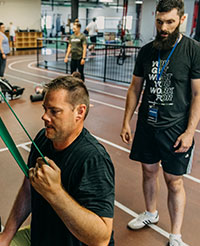 Brendon Panther
Personal Trainer
Credentials: B.S. in Sport and Exercise Science, USAW Level 1 Sports Performance Coach, M.A. in Kinesiology
​Brendon grew up in Iowa City. After writing his own programs in high school, he learned technique of Olympic weightlifting under coach Jianping Ma as well as how to write strength programs under UNI's head strength and conditioning coach Jed Smith. Brendon gained more experience working with the Waterloo Black Hawks as well as multiple teams at UNI. Brendon is currently at Iowa City West High School working as the strength and conditioning coach as well as working with the students in Performance PE. In his free time, Brendon enjoys music, relaxing with his family and supporting his athletes whenever possible.
Personal Training Senior Fitness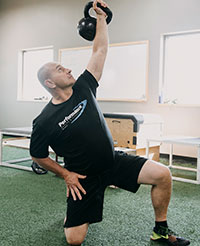 Monte Priske
Personal Trainer
Certifications: B.S. in Therapeutic Recreation; NASM-Certified Personal Trainer; StrongFirst Certified Kettlebell Instructor Level 1; StrongFirst Certified Barbell Instructor; NASM-Certified Senior Fitness Specialist; Functional Movement Specialist Level 1 and 2
Fitness and exercise have always been a passion for Monte. Throughout high school, he participated in many sports and weight training. In college, he played rugby at the University of Iowa. Monte's adult fitness interests have included running marathons, half marathons, strength training and yoga.
As Monte started training others, he knew assisting others to become strong and reach their fitness goals was his calling. He has since become certified as a personal trainer and functional movement specialist. His goals as a trainer are to share his knowledge and enthusiasm to assist clients in maximizing their fitness and improving their quality of life. His special interest is in helping middle aged people like himself reach their fitness goals while making strength training an integral part of their personal fitness and wellness program.
Personal Training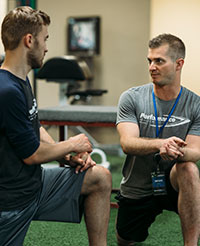 Bryan Rohrbach
Personal Trainer
Credentials: M.A. Kinesiology; B.A. Exercise Science; Certified Strength and Conditioning Specialist (CSCS); United States Weightlifting Certified (USAW)
Bryan attended the University of Northern Iowa for undergraduate and his masters from 2008-2015. While there he was a member of the top 25th ranked Men's Track and field team. After Track and Field Bryan got involved with Olympic Weightlifting with coach Jianping Ma, Coach Ma was a member of China's first Olympic Weightlifting team at the Los Angeles Olympics in 1984. After learning from Coach Ma, Bryan began interning with the UNI Strength and Conditioning department working with Track and Field and Football. In 2015 Bryan began his masters and became the Head Strength and Conditioning coach for UNI Track and Field while also assisting with UNI Football. After finishing his masters, Bryan became the Sports Performance Director for Sioux City East. After 2.5 years at East Bryan returned to UNI to become the Head Strength and Conditioning coach for UNI Women's Tennis while assisting with UNI Track and Field. Bryan joined Performance Health and Fitness in May of 2018.
Personal Training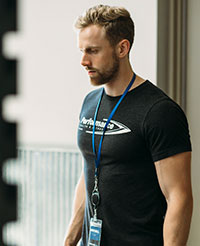 Mitchell Schumacher
Personal Trainer
Credentials: B.S. in Human Performance and Fitness, NSCA-CSCS, BOEE Certified Coach
Mitchell received his Bachelors degree in Human Performance and Fitness from St. Ambrose University in 2016. He has always been interested in sports and staying active. Since the age of 5, Mitchell has played tennis; his sport of choice. Mitchell enjoys working with people on the "little things" in the gym that can lead to BIG differences in performance and functionality. When he is not with clients or doing his own training, Mitchell enjoys being outside, fishing, and catching up with friends and family.
Personal Training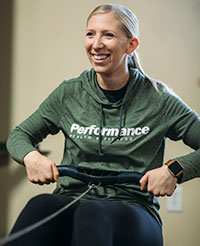 Jenny Vens
Certified Personal Trainer, Certified Health Coach, Precision Nutrition Level 1 Coach
Credentials: B.A. in Psychology; ACE Certified Personal Trainer; ACE Certified Health Coach; Precision Nutrition Level 1 Coach
Jenny has always had a passion for staying active. She has played tennis since she was 7 and was involved in weight training throughout High School. Jenny enjoys sharing her knowledge and love of fitness with others and is excited to work with Performance members. She enjoys working with clients of all ages and motivating them to achieve their goals. In her free time Jenny enjoys exercising, spending time with friends and family, and just being outdoors.
Personal Training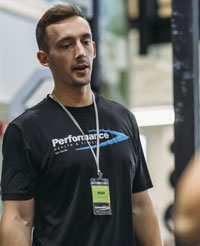 Alex Harmer
Personal Trainer
Credentials: Masters Degree in Coaching and Administration; Certified Strength & Conditioning Specialist
Alex attended Wartburg College where he earned his degree in coaching and administration while playing on their football team. He was fortunate enough to intern at Iowa State University (football), North Dakota State University (football), and the University of Iowa (Olympic), and was recently an Assistant Strength and Conditioning Coach at Minnesota State University (Mankato) where he was in charge of baseball, women's basketball, wrestling, cheer, redshirt football, intern coordinator, while also assisting with football.
His passion is to develop relationships with athletes and give them the tools necessary to achieve success on and off the field.
Personal Training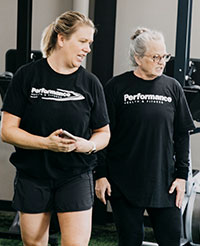 Melissa Prieskorn
Kettlebell Conditioning Instructor
Certifications: StrongFirst Certified Kettlebell Instructor Level 1; NETA-Certified Group Fitness Instructor
Melissa Prieskorn has been teaching at Performance Health & Fitness since 2013. She has a StrongFirst Level 1 Kettlebell Certification (SFG1) and has been teaching kettlebells since 2015. Melissa also has received her group fitness instructor certification from NETA (National Exercise Trainers Association).
In addition to her contributions to Performance Health & Fitness, she also has a BSW (Bachelor of Social Work) and worked in that field prior to becoming a stay at home mom. She loves helping others and discovered her passion for fitness once she joined a gym and began working with a trainer. She learned it was very empowering to lift heavy weights, and decided to get a group fitness instructor certification. She now gets to combine her passion for fitness with love for helping others.
Performance Kids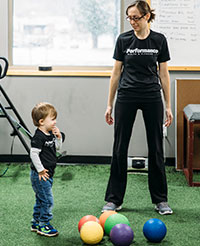 Trisha Dietrich
Kids Care Coordinator
Credentials: B.A. in Elementary Education, Emphasis in Early Childhood Education
Trisha has always been passionate about working with and educating young children and has enjoyed working in various daycare and preschool settings over the past several years. She believes that every child is unique and special in their own way and enjoys making connections with each individual family and child and learning about them on a personal level. In her spare time, Trisha enjoys cooking, reading, attending Iowa Hawkeye sporting events with her husband, and spending time with friends and family, especially her daughter.