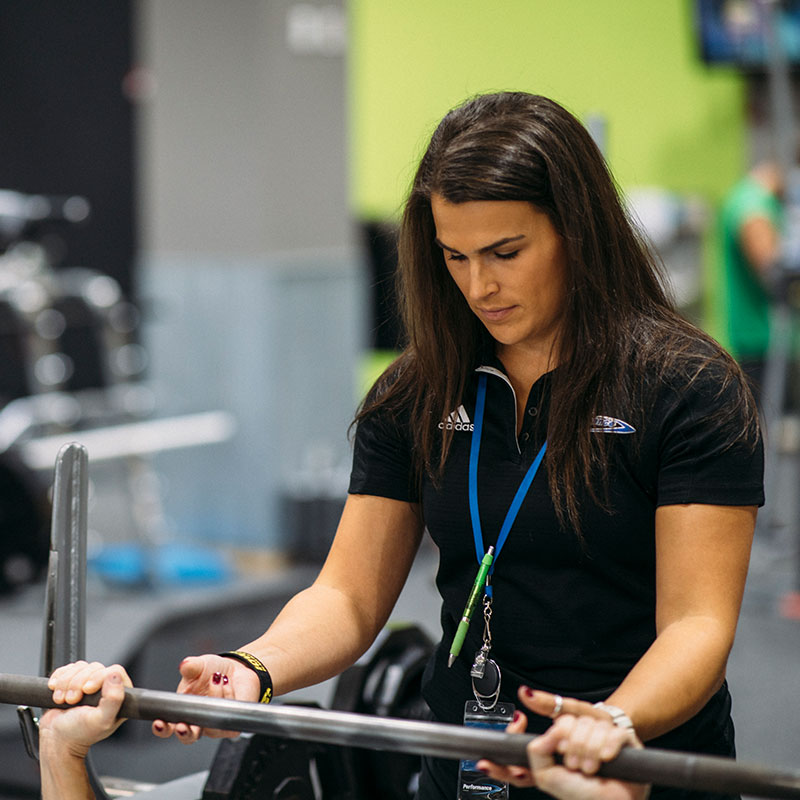 Lynde Nedved
Director of Training + Wellness Services
BA in Exercise Science from SUNY Buffalo; Certified Nutrition Coach; Women's Fitness Specialist (Peri/Post Menopausal and Pre/Post Natal); Certified Health/Wellness Coach; Personal Trainer
Lynde has been a personal trainer for 10+ years and couldn't be happier with her career choice. With her parents as inspiration along with her high school years as an athlete, she acquired a true passion for health and wellness. Lynde enjoys showing others what they are capable of to achieve their health and fitness goals.
During her years as a trainer, she has been able to help others achieve weight loss, gain muscle mass, live a better quality of life, and teach them skills they can use for the rest of their lives. It is her goal to coach those who think they can't do it to thinking that they can achieve what they want despite what may be currently challenging them.
She looks forward to speaking with Performance members to develop an individualized plan of action for achieving health and fitness goals. Schedule an initial consultation with Lynde today!
"No matter what age you are, if you are willing to make changes to your lifestyle you can achieve anything you put your mind to"
Feeling inspired by Lynde to accomplish new lifestyle habits with fitness and nutrition. I felt an upbeat energy at the gym and didn't feel intimidated.
Request a Complimentary Initial Consultation
Would you like to schedule a complimentary initial consultation with Lynde? Fill out the form below and we will get back to you within 24 business hours with availability and next steps. These appointments typically last 30-60 minutes and are scheduled in advance. Initial consultations can be conducted in person or virtually.
Initial Consultation with Lynde
WHAT
OUR
MEMBERS
ARE
SAYING
Performance has gone above and beyond to ensure the safety of their clients during these challenging times. Lynde is very conscientious about her clients' health concerns and makes sure that I adhere to the safety protocols. And the workouts are great as well!!! I feel safe coming here at a time when I did not think that I would. Thank you Performance!!
Lynde is the best. She seems to know what I can do and challenges me, without over doing it!
-Lizzy