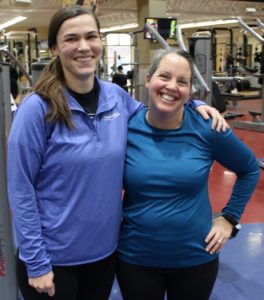 This month we share a success story from Performance Member Eve Menzel.
In December of 2015, my father died. He had always expressed how important it was to be healthy so you could spend as much time as possible with your loved ones. At the time of his death, I knew I weighed more than I probably ever had before. In January 2016, I knew this was the year I needed to make a change. During my first pregnancy in 2010, I broke my tailbone and during my second delivery, it was re-broken. I found getting back to an exercise regime incredibly hard. It had been six years since I had consistently worked out. In June of 2016 I weighed myself for the first time in almost a year. I cried. I felt uncomfortable, I felt shame.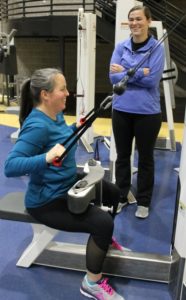 It was apparent I needed help to get back on track. In July of 2016, I joined Performance and started training with Leah. We spent the first session looking at how I was moving in ways that caused me to compensate and hurt myself. Learning basic body mechanics continued for a few weeks until my core was stronger and I was able to complete repetitions of exercises. Over the next few months, Leah and I met three times a week. She helped me set continual small goals, encouraged me, and pushed me to do things I never thought I could do. On December 14th, 2016, on the one year anniversary of my dad's death, I weighed in 50 pounds lighter than I had weighed in June. I can think of no greater way to honor my dad than to take control of my health. I am so grateful that I took the chance and joined Performance. It truly has been a life changing time for me.
In Leah's Words
Eve is the ideal client and I have thoroughly enjoyed working with her. She has learned to put herself first to achieve her fitness and lifestyle goals and she's loving the results! She always works hard, no matter how long or tough her week has been and she understands the learning curve with new exercises. She enjoys getting strong with her lifts and pushing herself on her cardio/circuit days. Her work ethic is one that I admire! She's always up for whatever challenge I put in front of her and she always comes out on top. I am so thankful that Eve included me in her lifestyle and fitness journey and I cannot wait to see what she tackles next.