Key elements that apply to all sports are speed, agility, strength, power, and endurance. At Performance Sport & Speed, we train athletes in grades 4-12 in these areas. We then take their training to the next level with personalized, sport-specific workouts. Our coaches emphasize proper technique and incorporate injury prevention exercises, creating a powerful, functional athlete. Having trained over 3,000 athletes throughout the state of Iowa, we have developed a program that works to progress athletes to the next step in their careers, whether it's high school athletics, college athletics, or professional athletics.
THE PERFORMANCE SPORT & SPEED PROGRAM
Performance Sport & Speed meets on Tuesday and Thursday from 4:30-5:30 pm.
COST: $180 per 6-week session per athlete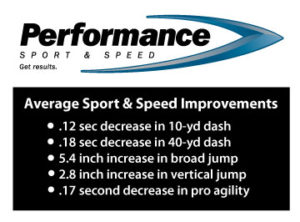 Pre- and Post-Evaluation
Vertical jump to test their power development
Broad jump to test their horizontal power and the ability to translate their vertical power into a horizontal movement
40/10yard sprints to test their speed and strength during their sprints
Pro-agility to test their quickness and ability to change direction
Bodyweight testing and strength testing will depend on the athlete, how long they've been working with us, and what developmentally they are ready for.
---
Performance Health & Fitness Strength & Conditioning Coaches
HEAD SPORT & SPEED COACH – HANNAH ZALENSKI
Credentials: B.S in Exercise and Sports Science, Certified Strength and Conditioning Specialist (CSCS), Tactical Strength and Conditioning Facilitator (TSAC-F)
Hannah earned her B.S in Exercise and Sports Science in 2014 from UW- La Crosse and will be completing her M.S. in Kinesiology from A.T. Still University in December 2020, with a specialty in orthopedic rehabilitation and corrective exercise. She began with Performance as a personal trainer in 2014 before spending three years as the strength and conditioning supervisor at a large YMCA in northern New York, where she specialized in working with youth artistic gymnasts and other youth athletes between the ages of 2 and 18. Hannah is currently the strength and conditioning coach at City High, and her goal in working with youth athletes is to not only make them better athletes but also to provide them with the skills and knowledge they need to be active and healthy throughout their lives.
///
BRENDON PANTHER
Credentials: B.S. in Sport and Exercise Science, USAW Level 1 Sports Performance Coach, M.A. in Kinesiology
Brendon grew up in Iowa City. After writing his own programs in high school, he learned the technique of Olympic weightlifting under coach Jianping Ma as well as how to write strength programs under UNI's head strength and conditioning coach Jed Smith. Brendon gained more experience working with the Waterloo Black Hawks as well as multiple teams at UNI. Brendon is currently at Iowa City West High School working as the strength and conditioning coach as well as working with the students in Performance PE. In his free time, Brendon enjoys music, relaxing with his family, and supporting his athletes whenever possible.
///
ALEX HARMER
Credentials: Masters Degree in Coaching and Administration; Certified Strength & Conditioning Specialist
Alex attended Wartburg College where he earned his degree in coaching and administration while playing on their football team. He was fortunate enough to intern at Iowa State University (football), North Dakota State University (football), and the University of Iowa (Olympic), and was recently an Assistant Strength and Conditioning Coach at Minnesota State University (Mankato) where he was in charge of baseball, women's basketball, wrestling, cheer, redshirt football, intern coordinator, while also assisting with football.
His passion is to develop relationships with athletes and give them the tools necessary to achieve success on and off the field.
///
KELSEY MCCREA
Credentials: B.A. Health and Human Physiology- Exercise Science, ACSM Certified Personal Trainer
Kelsey has always had a passion for sports and helping people grow up with an athletic background. She combined her passion at the University of Iowa where she graduated in 2016 with an Exercise Science degree. Since then she has gained experience through rehabilitation internships at hospitals, working with the University of Iowa football team and personal training. She enjoys working with clients of all ages, motivating and pushing them to new fitness limits while building relationships. In her free time, Kelsey loves spending time with friends and family, being outdoors, traveling, playing volleyball, and going to sporting events.
///
BRYAN ROHRBACH
Credentials: M.A. Kinesiology; B.A. Exercise Science; Certified Strength and Conditioning Specialist (CSCS); United States Weightlifting Certified (USAW)
Bryan attended the University of Northern Iowa for undergraduate and his masters from 2008-2015. While there he was a member of the top 25th ranked Men's Track and field team. After Track and Field Bryan got involved with Olympic Weightlifting with coach Jianping Ma, Coach Ma was a member of China's first Olympic Weightlifting team at the Los Angeles Olympics in 1984. After learning from Coach Ma, Bryan began interning with the UNI Strength and Conditioning department working with Track and Field and Football. In 2015 Bryan began his masters and became the Head Strength and Conditioning coach for UNI Track and Field while also assisting with UNI Football. After finishing his masters, Bryan became the Sports Performance Director for Sioux City East. After 2.5 years at East Bryan returned to UNI to become the Head Strength and Conditioning coach for UNI Women's Tennis while assisting with UNI Track and Field. Bryan joined Performance Health and Fitness in May of 2018.
///
MITCHELL SCHUMACHER
Credentials: B.S. in Human Performance and Fitness, NSCA-CSCS, BOEE Certified Coach
Mitchell received his Bachelor's degree in Human Performance and Fitness from St. Ambrose University in 2016. He has always been interested in sports and staying active. Since the age of 5, Mitchell has played tennis; his sport of choice. Mitchell enjoys working with people on the "little things" in the gym that can lead to BIG differences in performance and functionality. When he is not with clients or doing his own training, Mitchell enjoys being outside, fishing, and catching up with friends and family.
---
FAQs
What exactly is injury prevention? We focus on teaching the athletes proper technique to help their overall athleticism. By developing athleticism, we cover all the positions and movements encountered during a practice or competition. We focus on bodyweight movements first, covering the basic mechanics of jumping, running, and landing so when the athletes encounter a similar position during a competition they already have the correct movement pattern to produce the maximal amount of force. To increase injury prevention we also focus on strength exercises throughout the full ranges of motion to help develop the muscles fully, as to not over shorten or overstress the muscles that are most commonly injured depending on the sport.
What about the young athlete's ACLs? With knee injuries being fairly common, especially in adolescent girls, we make sure to teach the girls how to recruit the proper muscles during the movements that could put added stress on the ACL if done improperly. By teaching the athletes to recruit the proper muscles, we teach them how to move without added stress to the knee ligaments this helping prevent the ACL and other knee injuries. By teaching them in practice, we are able to have carried over into the games so they don't get out of proper position and put their knees and ACLs at risk.
Sport-specific vs general athleticism? We focus on both of these during our sport and speed sessions. The general athleticism is what will help the athletes when they are reacting to a ball or a play during competition. We want all of our athletes to be well rounded and able to move well throughout normal sport-specific positions like throwing or hitting mechanics for baseball or softball, but also have the proper positions when they react to a ball hit to their left or when they have to jump to catch a line drive. Sport-specific exercises are those that can directly be transferred to the sport, such as box jumps for basketball players, med ball throws for baseball and footwork, and agility for soccer. All of these types of exercises would help further the athlete's development in a specific sport.
Training Notable Athletes Many of our athletes have gone on to great athletic accomplishments including NCAA All-Americans, High School State Champions, All-State, and Regional Recognition and Collegiate Athletic Scholarships. A few notable area athletes include:
• Dan Davis – Washington University Hurdler
• Jake Gannon – Iowa State University Football
• Tom Gorzelanny – Milwaukee Brewers Baseball
• Nate Kaeding – San Diego Chargers Football
• Zach Miskovic – Washington Capitals National Hockey League
• Allison Smith – University of Iowa Volleyball
• Emma Winstead – Drake Soccer
• Caitlin Wnek – University of Northern Iowa Softball