Fat is a nutrient necessary for your health. Our body uses fat for energy, insulation, and to help absorb vitamin A, D, E and K. Fat gets a bad reputation, but not all fats are the same. There are different types of fats: unsaturated fats (polyunsaturated fat and monounsaturated fat), saturated fat, and trans fat.
Monounsaturated fats are found in olive oil, avocados, almonds, peanuts, hazelnuts and grapeseed oil. Omega-3 (alpha-linolenic acid) and omega-6 (linoleic acid) fatty acids are polyunsaturated fats that are essential in our diet because our bodies do not produce these on their own. Fish, nuts, seeds, soy products, leafy vegetables and wholegrains contain omega-3 fatty acids. Corn oil, safflower oil, sunflower oil, eggs, and meat are sources of omega-6 fatty acids. Monounsaturated fats and polyunsaturated fats should make up most of your daily fat intake. Trans fats are found in baked goods, fried foods, margarine, and many fast foods. Eating too much trans and saturated fat is linked with higher risk of heart disease. Saturated fat is found in lard, butter, pastries, meat, full fat dairy, and coconut oil.
Coconut oil has increased in popularity over the past few years, because of its medium chain triglyceride (MCT) content, which are known to have health benefits. Less than 15% of the fat in coconut oil is MCT. Coconut oil is very high in saturated fat at 82% saturated fat. In comparison butter is 63% and lard is 39% saturated fat. Some research has been done on the benefits, but there is no good scientific evidence that coconut oil has any health benefits. Fat should be included as part of a well-balanced diet, but trans and saturated fats should be consumed in moderation.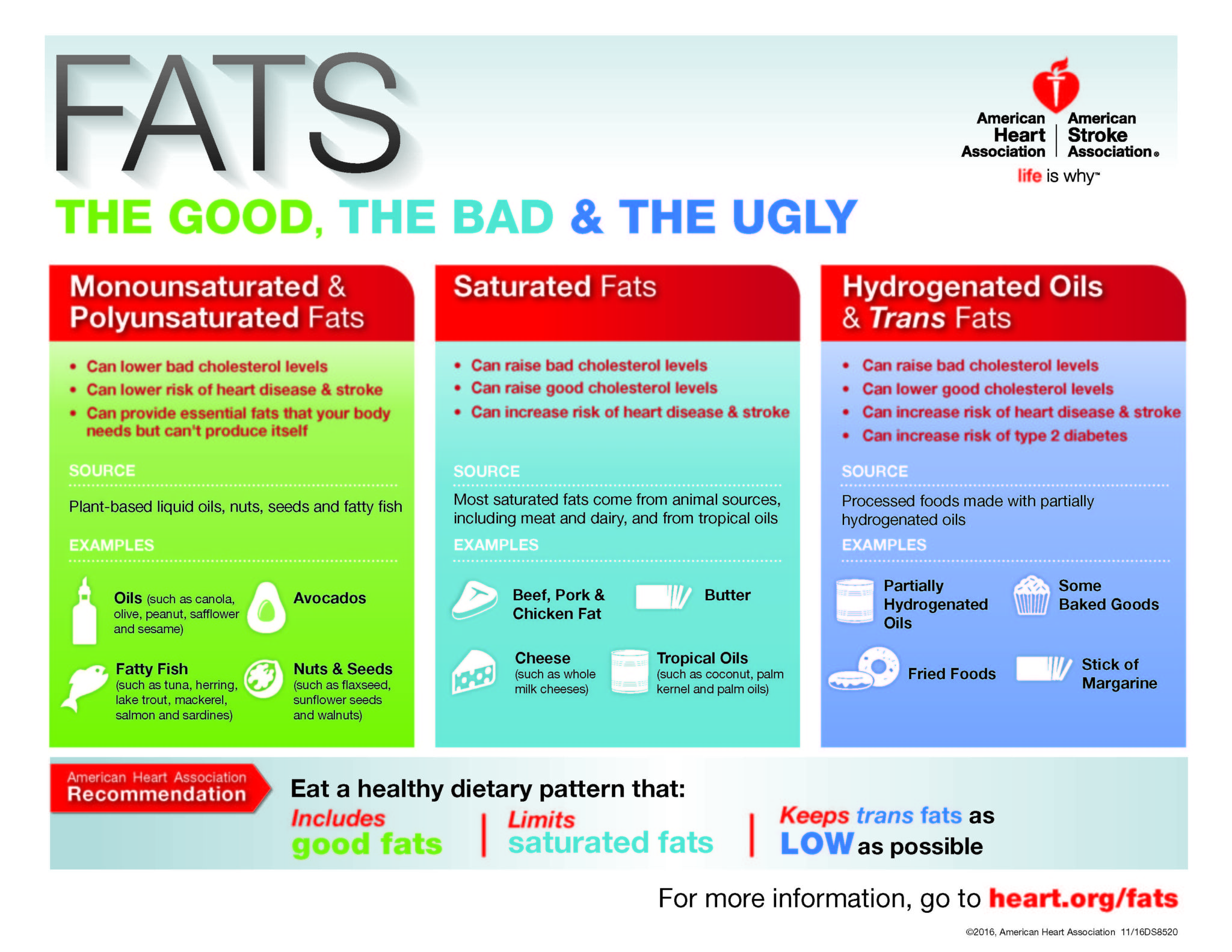 Exciting Insurance Update! Our nutrition services may be covered under Blue Cross Blue Shield plans. You should contact your insurance to find out if your current plan covers medical nutrition therapy or nutrition counseling services. You will need a referral from a physician and have an underlying medical condition, such as diabetes, hypertension or kidney failure to qualify if your plan does cover nutrition services. We are happy to assist you to find out if billing through insurance is the best option for you.