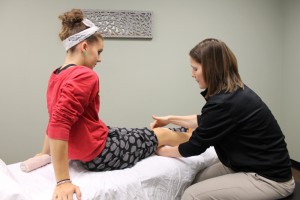 At Performance Therapies, we are committed to providing comprehensive individualized programs for your preventative and rehabilitative needs.
Experience the Performance Therapies Difference
Our physical therapists educate you on diagnosis and prognosis throughout the treatment process. We team up with you to establish goals and help you understand your injuries or concerns so you can fully recover.
Our goal is to have you treated by the same physical therapist throughout
your care. Consistency provided by the same highly-trained physical therapist
optimizes outcomes.
We specialize in sports medicine/orthopedic evaluations and comprehensive
treatment plans.
Our staff is committed to continuing education, learning new techniques and
evaluation skills through a functional manual therapy approach.
When you finish your physical therapy program, we give you the tools to be
healthy for years to come.
Conditions we commonly treat
Joint pain/arthritis
Tendonitis/bursitis
Overuse/repetitive injuries
Strains and sprains
Rotator cuff injuries
Low back and neck pain
Postpartum back/pelvic pain
Total joint replacements
Pre- and post-operative care for orthopedic surgeries
To earn more about Performance Therapies and make an appointment at one of our locations in Coralville, Cedar Rapids, Hiawatha or Kalona:
Visit PTforHealth.com