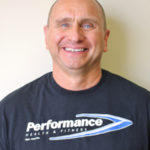 This month we shine the spotlight on Monte Priske. He is a Personal Trainer and kettlebell instructor at Performance.
Monte's Background
Fitness and exercise have always been a big part of my life.  I remember reading Arnold Schwarzenegger's book, "The Education of a Body Builder," in 1977 when I was in junior high and that was my motivation to begin training.  I graduated from the University of Iowa with a degree in Recreation Therapy.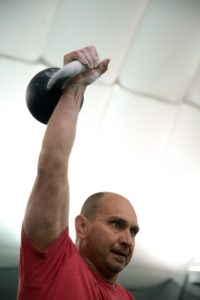 Currently, I am married and have two kids who both live in Denver.  One is an Iowa grad and the other Iowa state.  Previous to coming to Performance, I was a long term care administrator for 27 years.  During that time I weight trained off and on, ran two marathons and ten half marathons.  In 2016, I became a kettlebell instructor and started teaching.  My goals at Performance are to help people regain their strength and conditioning and maintain their independence.
10 Random Questions for Monte
In the morning, I can't live without:  Smoothie and eggs
5 things you would find in my refrigerator:  Fruit, Chocolate milk, Veggies, Eggs, Cheese
The most amazing vacation I took was… I went to Germany in college.
In my free time I like to…  Train, spend time with my family and dogs, be outside
If you didn't live here in Iowa, where would you live?  Door county, WI  Why?  The weather is amazing and I love lake Michigan.
If you were stranded on a tropical island with room for 3 people, who are the other two people with you?  My Family
Where's your favorite place to take an out-of-town guest?  Downtown Iowa City and Mickey's
Favorite sports teams?  Hawkeye and All Blacks
Would you rather –
have a rewind button or a pause button on your life?  I would rewind my life a few years.
be stuck on a broken ski lift or in a broken elevator?  Broken ski lift so I could enjoy the view.
spend the night in a luxury hotel room or camping surrounded by beautiful scenery?  Camping in a huge RV.
explore space or the ocean?  Ocean – I love water.
spend the day with your favorite athlete or you favorite movie star?  Favorite Athlete.
Tell us something about yourself that most people don't know.  I did a marathon in a wheelchair in 3 hrs and 33 minutes