Most people know that regular consumption of fruits and vegetables is good for your health. Unfortunately, many people in the U.S. do not consume enough produce, despite their known health benefits.
Fruits and vegetables are rich in vitamins, minerals, fiber, and water, which are all important nutrients for the body to run properly. Research suggests that individuals who eat more fruits and vegetables, along with an overall healthy eating pattern, may reduce their risk of chronic diseases.
Fruits and vegetables come in a variety of colors, and it is important to consume a variety of all the colors since each color provides different nutrients that carry out unique roles in the body.  You cannot get all the nutrients you need from one type of fruit or vegetable. The Dietary Guidelines for Americans recommend filling half your plate with fruits and vegetables, as a way to encourage variety and regular consumption throughout the day. They are so versatile, they can be consumed raw, cooked, alone, paired with something, as part of a dish, or blended in a smoothie.
Fruits and vegetables are nutrient-rich, and make it easy to consume vitamins and minerals that many individuals do not get enough of including:
Potassium | Helps to maintain healthy blood pressure.
Fiber | Soluble fiber can help reduce cholesterol, while insoluble fiber is necessary for proper bowel function. Fiber is also important to aid in satiety.
Folate (folic acid) | Helps with red blood cell formation and reduces the risk of neural tube defects during fetal development (an additional 400mcg of folic acid should be consumed during pregnancy).
Vitamin A | Important for skin and eye health.
Vitamin C | Aids with wound healing, and boost the immune system.

June is Fresh Fruit & Vegetable Month, which aims to encourage more consumption of fresh fruit and vegetables.
One of the easiest ways to get fresh fruit and vegetables is at the farmer's market.
You can find some of the freshest produce at farmer's markets because the produce has not had to travel far, which allows time for it to fully ripen in the field and brought directly to the market.
For this reason, there are a lot of different varieties of specific fruits and vegetables that tend to not be available at grocery stores. Shopping at a farmers market is also a great way to help support local families, and learn more about where your food comes from. Many local farmer's markets (including the Cedar Rapids Farmers Market, Iowa City Farmers Market, and Coralville Farmer's Market) have many amazing local vendors to purchase from.
Plan a visit to your local farmers market this summer, and take advantage of trying the fresh produce available in your favorite recipes or branch out and make a new one. Like this tasty Arugula & Pesto Grilled Pizza recipe (courtesy of Performance Health & Fitness member, Kelly Potter). Not only is it full-on flavor, but it's also loaded with nutrients.
ARUGULA & PESTO GRILLED PIZZA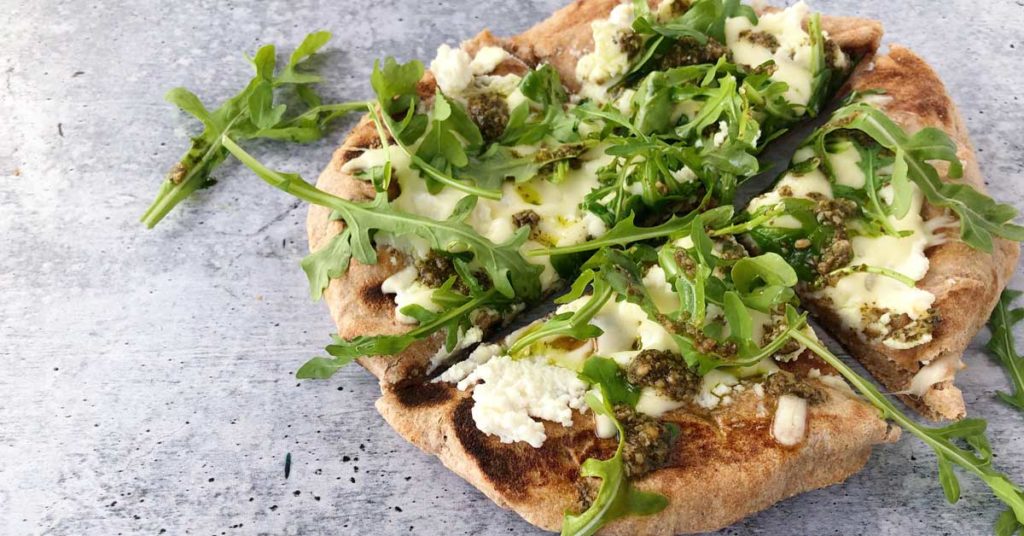 The farmers market is back in action and it's the perfect time to pick up all of the greens! Early in the season is a great time to stock up on fresh herbs and leafy greens before summer produce is out in full force. I used fresh arugula and basil to make this springy grilled pizza. The peppery arugula pairs so well with creamy ricotta and mozzarella, plus a little smoke from the grill!
– Your favorite homemade or prepared pizza dough (Trader Joe's has an excellent whole wheat dough in the refrigerated section)
– 1/4 cup ricotta cheese (I used part-skim) – per individual serving
– 1/4 cup shredded mozzarella – per individual serving
– Handful of arugula – per individual serving
– Pesto (prepared or homemade)
– 1/3 cup walnuts, lightly toasted in a skillet
– 3 cups basil, loosely packed
– 2 cloves garlic, chopped
– Salt & pepper to taste
– 2 Tbsp extra virgin olive oil
– 3 Tbsp grated parmesan
– Freshly grated or shaved parmesan
Light grill and preheat to about 400 F. Roll desired size pizza crust on a floured surface until crust is 1/4" thick. Once the grill is preheated, lightly oil grates to prevent sticking. Place pizza dough on grates and close grill. Cook for 2-3 minutes, then flip. Spread ricotta overcooked side of the crust, then top with mozzarella. Close grill and cook for another 3-5 minutes, or until crust is slightly puffy and edges are golden brown. Remove pizza from grill and top with a handful of arugula. Drizzle with pesto and top with shaved parmesan.
///
Want to learn about Nutrition Coaching? Schedule a free 30-minute Nutrition Coaching Strategy Session to speak with our Registered Dietitian about your health goals and see if nutrition coaching would be a good fit for you.
Schedule a FREE 30-Minute Nutrition Coaching Strategy Session