Grilling, BBQ, cookout, picnic…whatever you like to call it, eating outdoors in the summer is a perfect way to enjoy nature while spending time with family and friends. Celebrate National picnic month by taking your meal outside for a fun meal everyone can enjoy. From hamburgers and BBQ chicken, to grilled veggies and salads, to watermelon and pineapple the options are endless when it comes to creating the perfect outdoor meal.
Food safety tips when eating outside this summer:
Time & temperature
Keep hot food above 140°F
Keep cold foods below 40°F
Perishable food items should not be left out more than 2 hours at room temperature. If it is warmer than 90°F, do not keep perishable items out longer than 1 hour.
Check temps with a food thermometer
The only way to ensure food is safely cooked is to measure the internal temperature before removing food from the heat source.
145°F – Beef, pork, veal and lamb steaks, chops, and roasts, and fish or shellfish
160°F – Ground beef, pork, veal and lamb, and eggs
165°F – chicken and turkey breasts, legs, thighs, wings, ground or whole

Use different coolers for drinks and perishable food items
Store perishable foods in a separate cooler from drinks to reduce frequency of opening and increasing temperature inside the cooler.
Avoid cross-contamination
Use clean platters and utensils for cooked food. Do not reuse ones used for raw meats.
If individuals with allergens are present, ensure food safety by designating bowls, platters, and serving utensils as allergen-free and do not use for any other foods.
Out of the box inspiration:
Think beyond burgers and hotdogs, try plant-based proteins or other foods you typically wouldn't grill

Portobello mushroom 'burgers'
Pesto & mozzarella pizza
Grilled fish tacos

Try untraditional picnic salads

Caprese salad
Watermelon and avocado salad
Bean salad

Marinate and grill your vegetables for a new flavor dimension

Balsamic zucchini sticks
Grilled romaine lettuce
Mexican street corn

Fire up your dessert

Grilled pineapple rings
Peach halves with ice cream

Choose heat-friendly dips

Salsa
Pesto
Guacamole
Hummus
Want to look like a rock star at your next social get-together and/or outdoor picnic? Bring Honey Garlic Chipotle Chicken – this tasty recipe is courtesy of Performance Health & Fitness member, Kelly Potter (thank you Kelly!). Pro Tip: bring the chicken to your outing marinated and ready for the grill master, or cook in advance and cut into easy to share chunks.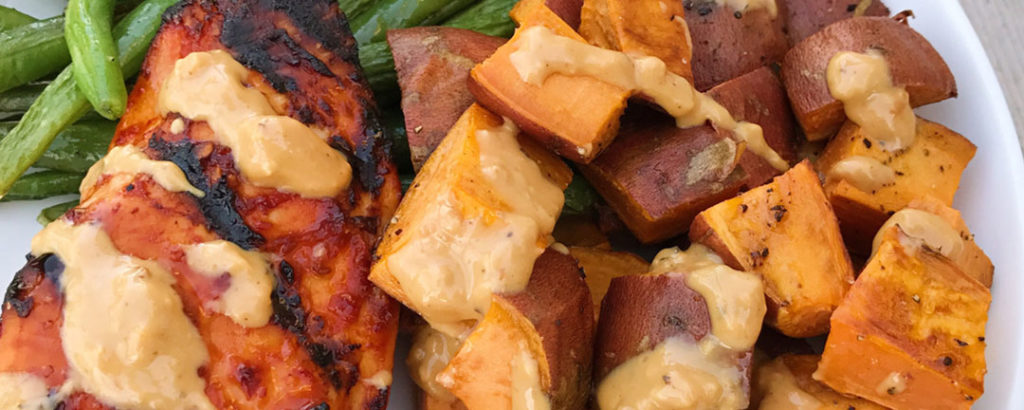 HONEY GARLIC CHIPOTLE CHICKEN
serves 4
4 oz chipotle peppers in adobo sauce
Juice from 1 lime
1 tbsp apple cider vinegar
1 tbsp honey
2 cloves garlic
Salt & pepper to taste
16 oz of chicken breast (or try with chicken thighs, drumsticks or wings)
(optional / garnish) all natural peanut butter
Blend all ingredients until smooth. Marinate chicken for at least 30 minutes, but preferably overnight. Grill until cooked thoroughly. Feeling adventurous? Try drizzling peanut butter on the chicken once cooked (shown in the photo).
---
Want to learn more about Nutrition Coaching? Schedule a free 30-minute Nutrition Evaluation to chat with Ashley about your health goals and see if nutrition coaching is a good fit for you.
Schedule a FREE 30-Minute Nutrition Evaluation