The weather is warming up, people are enjoying spending time outside again, and a key part of warmer seasons in the midwest is enjoying a good grill out. Grilling is a fun way to add flavor and variety to your meals. Whether you keep it simple or create something elaborate, grilling can be one of the healthiest ways to cook.
Our top six tips for safe and healthy grilling:
1) Pick lean protein
Loin or round cuts of red meat and pork are leaner cuts of meat. Choice or select grades of beef have less fat than prime grade. Choose chicken cuts of chicken or turkey for leaner meat, and either remove skin or purchase skinless cuts for less fat. When choosing ground meats, opt for the leanest available to reduce saturated fat intake. Vary your proteins with fish or seafood for heart-healthy options.
Lean proteins to grill include:
-Chicken or turkey breast
-Flank steak
-Ground chicken or turkey (lean)
-Ground beef (lean)
-Pork chop
-Pork tenderloin
-Salmon
-Scallops
-Shrimp
-Sirloin
-Tilapia
-Top loin steak
-Tuna

2) Add colorful vegetables
Vegetables are a good source of fiber, vitamins and minerals, which should be included at every meal as part of a balanced plate. Vegetables can be served raw, baked, steamed, or grilled. Grilling vegetables intensifies the flavor and provides a unique texture. Kebabs can be an easy way to include vegetables on the grill. Some vegetables that are good to grill include:
-Asparagus
-Bell peppers
-Brussels sprouts
-Corn on the cob
-Eggplant
-Mushroom
-Onions
-Potatoes
-Romaine lettuce
-Zucchini
Grilling buns, bread, tortillas, or pizza crusts is a great way to add flavor and texture to your grains.
3) Grill fruits for a unique treat
The natural sugars caramelize in the heat, which creates more sweetness and flavor.
Fruits that grill well include:
-Apples
-Bananas
-Mangos
-Nectarines
-Peaches
-Pears
-Pineapple
4) Cook at a lower heat
Cook your meat below 325℉. This is the temperature that research has found when cancer-causing carcompgems begom to develop. Higher heats and flames are associated with causing polycyclic aromatic hydrocarbons (PAHs) and heterocyclic amines (HCAs) to form. Cooking at a lower temperature helps to reduce the formation of these. Choosing leaner cuts of meat also helps to reduce fat dripping into the grill resulting in smoke, which contains PAHs. Cooking at a lower temperature may mean longer cooking times. It is important to make sure the meat is still cooked to minimum safe cooking temperature. Use a food thermometer to check the internal temperatures.
-Whole chicken/turkey: 165℉
-Chicken or turkey breast: 165℉
-Ground chicken or turkey: 165℉
-Ground beef: 160℉
-Beef roast or steak: Medium rare 145℉, Medium 160℉, Well-done 170℉
-Pork: 160℉
-Fish: 145℉
Practice safe grilling and keep raw meat, poultry, and seafood separate from other foods grilled. Use a clean plate for grilled food and not the one that held raw meats to avoid contamination.

5) Marinate your meat
Marinating meat before cooking has been shown to limit the formation of carcinogens while grilling, not to mention can provide additional flavor. Marinating can reduce the formation of HCAs by as much as 96% according to The American Institute for Cancer Research. Some of the best marinades to reduce carcinogen formation are ones that contain thyme, sage, garlic, rosemary, wine or beer. There are many simple marinade recipes and store-bought marinades that can provide amazing flavor. Look for marinades or recipes that are lower in sodium and contain heart-healthy fats like olive oil. For a marinade to be effective it must contain:
-An acid to tenderize (lemon juice, vinegar, buttermilk, wine, yogurt, etc)
-Oil for moisture
-Time for reactions to occur
-Herbs & spices for flavor and reduction in the formation of HCAs
It is important to keep food safety in mind when marinating and grilling. Refrigerate any meats that are marinated for more than 30 minutes to prevent bacteria. Don't use the same marinade for basting that the raw meat was in, set some aside to use for later.
6) Keep your grill clean
Clean your grill after each use with a wire brush to remove burnt pieces of food, and then wipe it down with a cloth to remove any brush bristles. Removing burnt pieces stuck on the grill prevents burning, smoking and bitter flavors the next time it is used. Regular cleaning of the grill helps to reduce the formation of carcinogens.
Looking for some recipe inspiration? Give this recipe a try – courtesy of Performance Health & Fitness Member, Kelly Potter.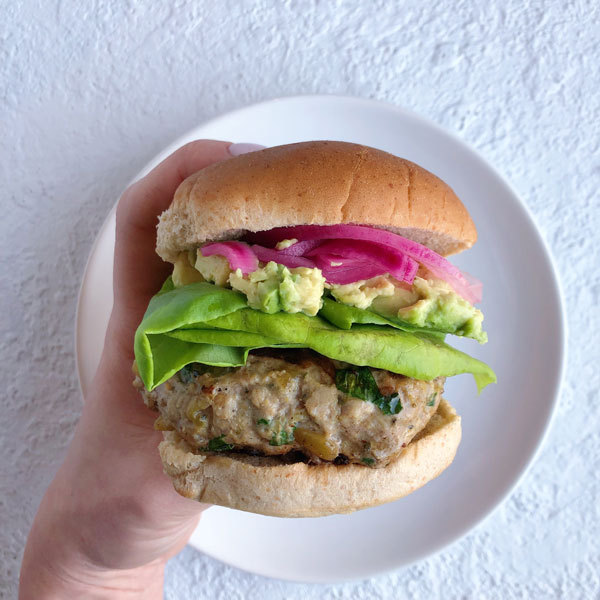 Green Chili Turkey Burgers
makes four 6-oz burgers
Turkey burgers are one of the easiest ways to incorporate both lean protein and flavor into your meals! I love the versatility of ground turkey and this Green Chili version is so. good. Feel free to add some chopped jalapeños if you like a little more spice, or leave the recipe as is for lots of flavor but very little heat!
1-1/2 lb ground turkey (either 99% lean or 93%/7% works well!)
4.5 oz can chopped green chiles (drained)
1 tsp sea salt
1 tsp chili powder
1/2 tsp ground cumin
2 tbsp chopped cilantro (omit if you don't prefer cilantro)
Suggested toppings:
Avocado or guacamole
Lettuce, tomato
Cheddar or pepper jack cheese
Pickled red onion
– 1 medium red onion, thinly sliced
– 1 cup warm water
– 1/2 cup vinegar (white or apple cider)
– 1 Tbsp sugar
– 1 tsp sea salt
Whisk together water, vinegar, sugar, and salt in a bowl until sugar and salt are dissolved. Place onion in a mason jar and pour vinegar mixture over the top. Place in refrigerator and let soak at least overnight, but up to seven days.
For the burgers, mix all ingredients in a large bowl (use your hands!). Form into 4 balls and then shape into patties. Place on hot grill or preheated, oiled grill pan (if you're cooking indoors). Cook for approximately 7 minutes each side or until internal temperature reaches 165 F.
Other great recipes to try:
Grilled Watermelon Avocado Salad
///
Want to learn about Nutrition Coaching? Schedule a free 30-minute Nutrition Coaching Strategy Session to speak with our Registered Dietitian about your health goals and see if nutrition coaching would be a good fit for you.
Schedule a FREE 30-Minute Nutrition Coaching Strategy Session