In recent years, there has been a drastic shift in the world of wearable technology. We now can track much more than just our workouts to help give us an accurate picture of our current lifestyle and fitness level. Devices and apps can now track information:
heart rate
sleep patterns
other fitness-related activities such as workouts and runs
Wearable technology is the future, although some products may not have the same accuracy or coverage as others. When wearing a device that can track fitness such as a watch, there can be some inaccuracies when working out. For instance, a pushup where the wrist doesn't move cannot be truly rewarded with the watch because of the movement you are executing.
Myzone has provided a 3-band system called the MZ-Switch which allows the user to wear the module in a variety of ways. Users can wear the device on their chest for the most accurate reading, as well as the forearm or wrist which is slightly less accurate. The versatility of the MZ-Switch enables the individual to complete any workout while tracking their fitness levels.
The Myzone Heart Rate System allows users to track their workout accurately since the module itself is powered by the natural electrical conduction of our heart rate. With this natural power source, the intensity zones are going to be calculated correctly which then will give you an accurate snapshot of how intense your workout is.
The Myzone system also turns fitness into a game to see how many MEPs you can earn during a workout.
Becky Klutts, our Group Fitness Director, has earned so many points over the years that she has earned her Hall of Fame Rockstar status because she has hit her MEPs for almost 3 years!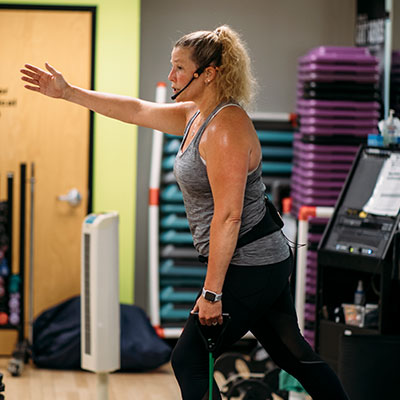 The fun doesn't stop there, once you reach a certain status you must sustain that status otherwise you drop down in tiers. It's like a real-life video game and who doesn't like to win? The point breakdown for the MEPs is quite simple as shown in the graphic: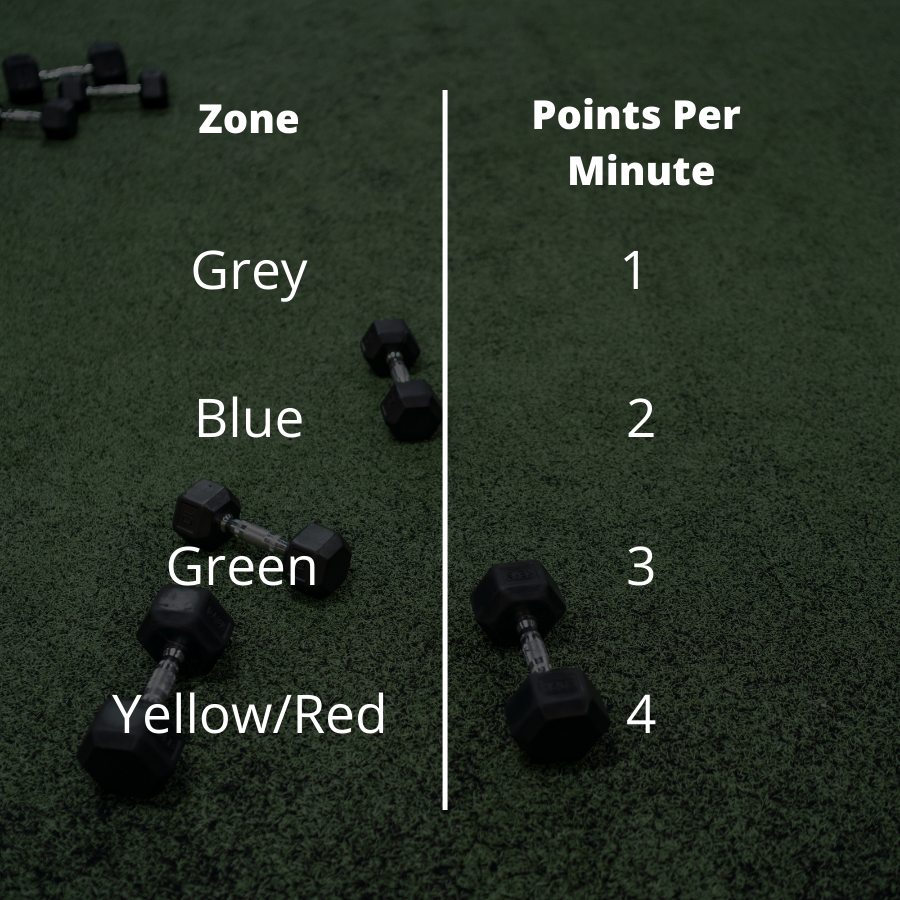 Now the heart rate system calculates your zones based on your age-predicted, heart rate max which can be calculated with the following formula:
(220- Your Age in Years)
For example, if you are cardiovascular fit, your heart rate max may be calculated above your age-predicted. You have proven that you can comfortably work out at higher heart rates. The system detects this when you are working out in the yellow and red zones consistently. The system will increase your heart rate to help challenge you further during workouts.
Gauging your workouts based on heart-rate based intensity rather than steps will then help you to personalize your nutrition. This is based on the intensity of your workouts to fuel your body appropriately.
At Performance we love to help others to make fitness fun and have provided live tile monitors around the facility so you can compare your MEPs to other members. This allows an interactive way to compete with peers or to simply track your workout while you're here. Most wearable technology can be expensive, but My Zone's heart rate system can be purchased here at Performance Health & Fitness for just $99!
To learn more about Myzone and the benefits it can have on your fitness experience, stop by the welcome desk or click the link below!
Request a Complimentary Initial Consultation
Would you like to schedule a complimentary initial consultation with Lynde? Fill out the form below and we will get back to you within 24 business hours with availability and next steps. These appointments typically last 30-60 minutes and are scheduled in advance. Initial consultations can be conducted in person or virtually.
Initial Consultation with Lynde