When Craig Engel tore the anterior cruciate ligament (ACL) in his right knee for the third time, he found himself in a surprising position.
Over the next two to three years, he was turned away from every doctor he approached about a knee replacement, who all told him "you're too young and you'll have to do it twice."
Engel, 56, of Mount Vernon, was used to getting fixed up surgically so he could get back to playing the sports he loves. After a partial ACL tear playing rugby in 1981, he had arthroscopy surgery. Then three years later, he tore both his ACL and his medial collateral ligament (MCL) playing basketball, which required a complete reconstruction of his knee.
Three+ years ago, he decided to try Performance Health & Fitness, with hopes that a personal trainer could help him build back up his strength and lose weight. Although a lifelong athlete, Engel had never used a gym before because he was wary of being judged. At Performance, however, he found just what he was looking for.
"They're fabulous. They approach training the right way, according to each person's needs," Engel said. "They don't have an end in mind. They really listen to you."
Engel began working out with Performance Health & Fitness personal trainer Brendon Panther once a week over the next two years. During this time, the focus was on general body strength and losing weight. Then in 2016, he found a doctor at the University of Iowa, orthopedic surgeon Dr. Nicolas Noiseux, who was willing to replace his knee.
"I went to Brendon and told him, we have about a year before this surgery, let's get my knee ready," Engel said.
The focus of their sessions turned to building up Engel's core and shoulder strength.
"Pretty much everything we did emphasized bracing the trunk," Panther said. "Knowing that his lower body was going to be affected by the surgery, I wanted to make sure that he'd be able to do movements like getting up out of a chair or into a car or to the bathroom."
Panther also had Engel build up his lower body strength, focusing on his lower back, glutes, and hamstrings. At each session, Panther would incorporate either back squats, deadlifts or one-legged pistol squats. Engel also did a lot of walking with exercise bands and what's called a "Farmer's Walk," which is walking with a kettlebell of significant weight, 40 pounds or more.
Engel underwent knee replacement surgery on Dec. 18, 2017. Often, there are requirements you need to accomplish before a hospital or surgical center will discharge you. These may include walking a certain distance, ascending/descending two or more stairs, and independently using the bathroom. While most patients remain in the hospital for two or three days after knee replacement surgery, Engel was discharged after just one day, an accomplishment he credits to his personal training routine.
"I was able to do stairs immediately. I was walking around that same day," Engel said. "Those first few weeks after surgery, in order to be able to get up, roll out of bed, having a strong core and shoulders was really important."
After his discharge from University Hospitals and Clinics, Engel went to a physical therapist in his hometown for his post-surgery rehabilitation.
"My therapist constantly remarked that the pre-surgery training I did hastened the post-op rehab tremendously," Engel said.
While the physical therapist was looking for a 112-degree bend in Engel's knee six weeks after surgery, "I was at about 130 degrees of bend six weeks after surgery. I could get out of cars easily," Engel said.
In addition to personal training building up his muscle strength pre-surgery, Engel said learning how to do exercises and engage his muscles was just as important.
"Physical therapy was not a foreign language, because I'd done so many of the routines beforehand," Engel said.
The types of activities Engel did through personal training, such as stretching and rolling out his muscles post-workout, were also part of his physical therapy.
"Knowing how to do the movements, knowing how to engage the different parts of your body helps tremendously in physical therapy," Panther said. "It's also a coordination thing."
Two months after his surgery, Engel was back with Panther lifting weights at Performance.
Six months out from his knee replacement surgery, Engel is riding his bike, golfing and walking with his wife and dog daily.
"I think everyone preparing for surgery should do a six-week month personal training boot camp," Engel said.
---
THE BENEFITS OF PRE-HABILITATION
 
According to the American Physical Therapy Association, as few as one or two sessions of pre-op physical therapy ("pre-habilitation") can reduce postoperative care use by 29% for patients undergoing total hip or knee replacement. Citing a 2014 study in the Journal of Bone and Joint Surgery, the biggest benefit was derived from the way it prepared patients for post-op rehabilitation, including how to use equipment and managing expectations.
Some other benefits that have been identified include:
Helping patients mentally prepare for surgery
Reducing pain and inflammation prior to operating
Improving muscular control for faster recovery
Educating patients on post-surgical exercises, leading to less time in inpatient rehabilitation
Increasing overall well-being and fitness
According to Fitness and Wellness News, the healthier you are going into surgery, the quicker and easier your recovery will be. However, it's important not to stress your body with an overzealous jump into a fitness routine.
Follow some simple guidelines:
Begin pre-hab at least six weeks prior to your surgery.
If you're new to exercise, start slowly. Now is not the time to exacerbate any other conditions or pull a major muscle.
Consider joining a Yoga class. This can help prepare your mind and body for surgery through relaxation techniques and soothing movements.
Performance personal trainer Panther echoed this advice: "If you take it slow, you'll end up stronger in the long run, because you'll stay healthy."
A study by researchers at New England Baptist Hospital, Beth Israel Deaconess Medical Center and Harvard Medical School, all based in Boston, found that knee and hip replacement surgery patients who had participated in water- and land-based strength training and aerobic and flexibility exercises for six weeks prior to their surgeries reduced their odds of needing inpatient rehabilitation by 73 percent, according to the Arthritis Foundation.
"Even in a fairly brief time period, the exercise paid off for the participants," said lead study author Daniel Rooks, Ph.D., former clinical research investigator, and professor of medicine at Harvard Medical School. "Their level of function and pain stabilized prior to surgery, whereas those who did not exercise got worse. The benefits of exercise before surgery are very clear."
 
TIPS FOR PRE-SURGERY EXERCISE ROUTINES
Brendon Panther's suggestions on which exercises would work best for people based on the type of surgery they are having:
KNEE/LEG SURGERY
Pistol Squats (or any single-leg independent movement): Each leg has to do all of the work on its own, instead of one leg always compensating for the other. This builds true strength in both legs.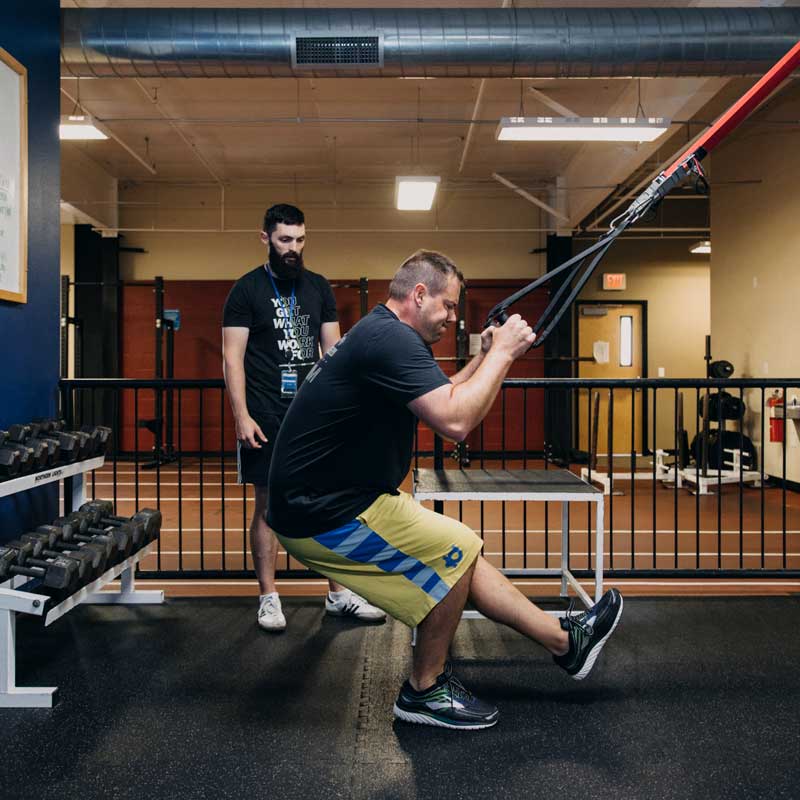 ---
ARM SURGERY
Dumbbell Work: In the same vein as the leg exercise, using single-arm movements let each arm build coordination and strength independently. 
---
HIP SURGERY
Hip Hinge: Bend at the waist, making sure you have a flat back. Place a PVC pipe or other round object (Engel used a broom handle at home) on your back near your neck, then bend your knees and push your hips back. Always stay focused on your posture, moving slowly through the movement.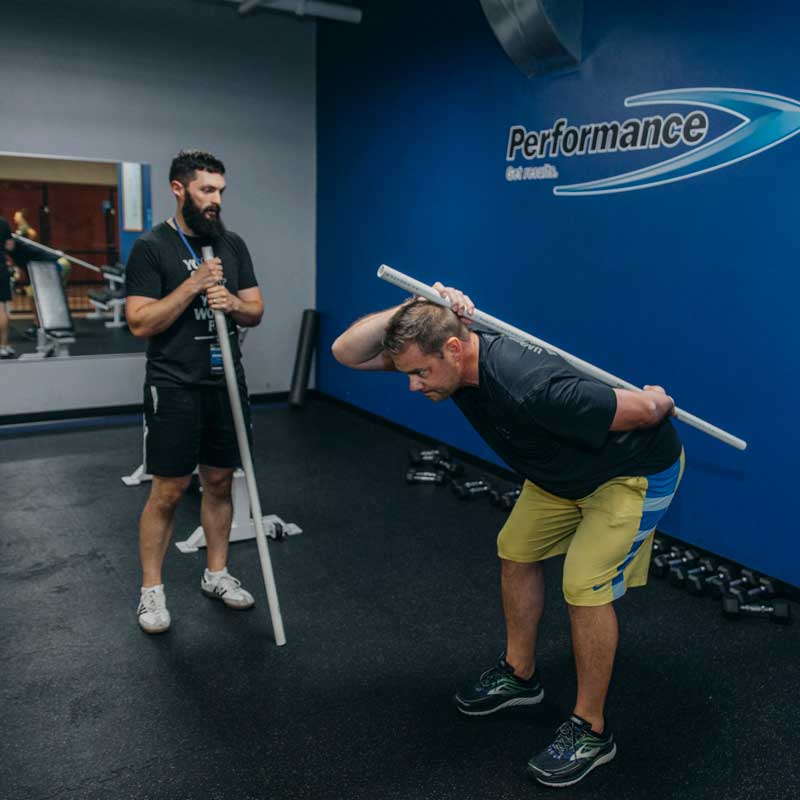 ---
SHOULDER SURGERY
Banded Pull Down: Using an elastic exercise band around a bar, this exercise simulates a pull-up movement. In the hip-hinge position, pull the band down until your arms are completely straight, engaging your lats completely.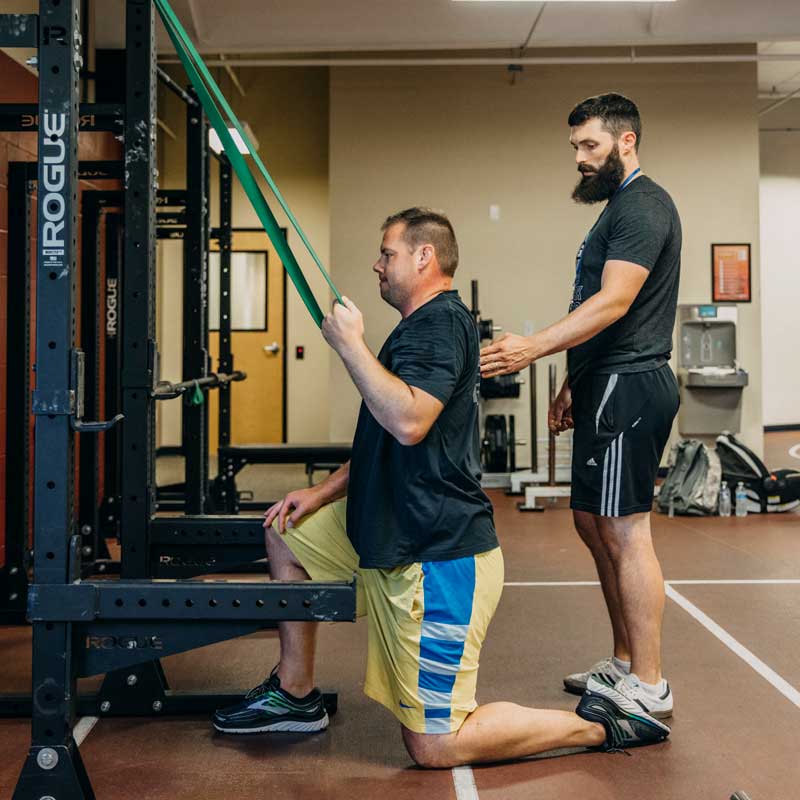 ///
Want to learn more about Personal Training, Health Coaching, Nutrition Coaching, TEAM Training, or Senior Fitness/Senior Personal Training at Performance Health & Fitness? Sign up for a FREE 30-Minute Strategy Session with a certified personal trainer and we'll help you find the resources and information needed to reach your personal goals.
Complimentary Initial Consultation Request