I am sure by now you have heard friends or family talk about meal prepping or seen #mealprep all over your social media, but what is meal prep and can it help you?
Meal prepping is simply preparing food ahead of time as a way to make it easy to have delicious, balanced meals during the busy week.
There are different ways to meal prep, but they all help to save time cooking during the week. Not only does meal prep save time, but it can help save money, help to keep meals balanced, and help reduce stress during the week.
Tips for meal prep success: 
Focus on incorporating all food groups, rather than starting with recipes. Having whole grains, lean proteins, vegetables, and fruits ready to go makes it easier to put together a balanced meal quickly during the week for breakfast, lunch, dinner, and snacks.
Take an inventory of your pantry, fridge, and freezer before determining your meal plan for the week. This will help to save time and money at the grocery store, and reduce food waste. Try to keep staples on hand – whole grains, canned tomatoes, beans or lentils, canned tuna, cooking oils, and spices that you can utilize.
Be flexible with your plan. You may need to make changes at the grocery store based on what is in season, what looks best, or what is on sale, i.e. seafood, leafy green veggie, whole grain is more flexible than salmon, kale, quinoa. Keep in mind that life happens, last-minute things come up and you may need to alter your plan.
Schedule time to prep meals, and make the most of your time by multi-tasking, i.e. while the chicken is in the oven cooking, cut up vegetables and fruits for meals and snacks.
Cook double batches of recipes and freeze extra for another week, or those super busy days that all you have time to do is reheat something quick.
Cook extra of proteins, whole grains, and vegetables to use throughout the week for lunches and dinners. Re-purpose leftovers by combining different prepped foods for new recipes. Baking extra chicken that can be used in stir fry or tacos, roasting up extra vegetables that can be used in Buddha bowls or burrito bowls, cooking up extra quinoa to use on salads or in stir fry are all easy ways to re-purpose ingredients.
Use shortcuts – pre-chopped vegetables and fruits, canned beans, instant rice, jarred sauces, rotisserie chicken, frozen fruits or vegetables to simplify lunches and dinners during the week.
Bake multiple things at the same time. i.e. roasting vegetables and salmon together. Make sure to line baking trays with parchment paper or foil to minimize cleanup.
Don't forget to prep snacks. Portion out fruits or veggies, nuts or seeds, nut butters, hummus, cheese, etc. so that it is easy to grab-and-go during the week.
Store prepped foods in airtight containers separately to prevent spoiling. Eat foods that spoil the quickest first. Eat pre-cut veggies or fruits earlier in the week. Things like potatoes, broccoli, and peas last longer and can be used later in the week. Frozen vegetables are always good to have on hand if you are worried about fresh produce spoiling too quickly.

Recommended safe storage times of cooked foods:
Refrigeration at 40°F or lower
1-2 days: Cooked ground poultry or ground beef
3-4 days: Cooked whole meats, fish and poultry; soups and stews
5 days: Cooked beans; hummus
1 week: Hard-boiled eggs; chopped vegetables if stored in an air-tight container
2 weeks: Soft cheese, opened
5-6 weeks: Hard cheese, opened
Freezing at 0°F or lower
2-3 months: Soups and stews; cooked beans
3-6 months: Cooked or ground meat and poultry
6-8 months: Berries and chopped fruit stored in a freezer bag
8-12 months: Vegetables, if blanched first
Who is ready to get started with our meal prep challenge?

During the month of August follow along with our meal prep wellness challenge and get into the routine of planning and prepping your meals and snacks. Each week, focus on prepping at least 1 meal that will last you throughout the week. Week 1 – prep breakfasts. Week 2 – prep lunches. Week 3 – prep dinners. Week 4 – prep snacks.
Looking for some inspiration? Try this Greek Meal Prep Bowl recipe from Performance Health & Fitness member, Kelly Potter. This recipe is great to pack for lunches, plus all the ingredients can be re-purposed into other recipes if you make a little extra.
Greek Meal Prep Bowls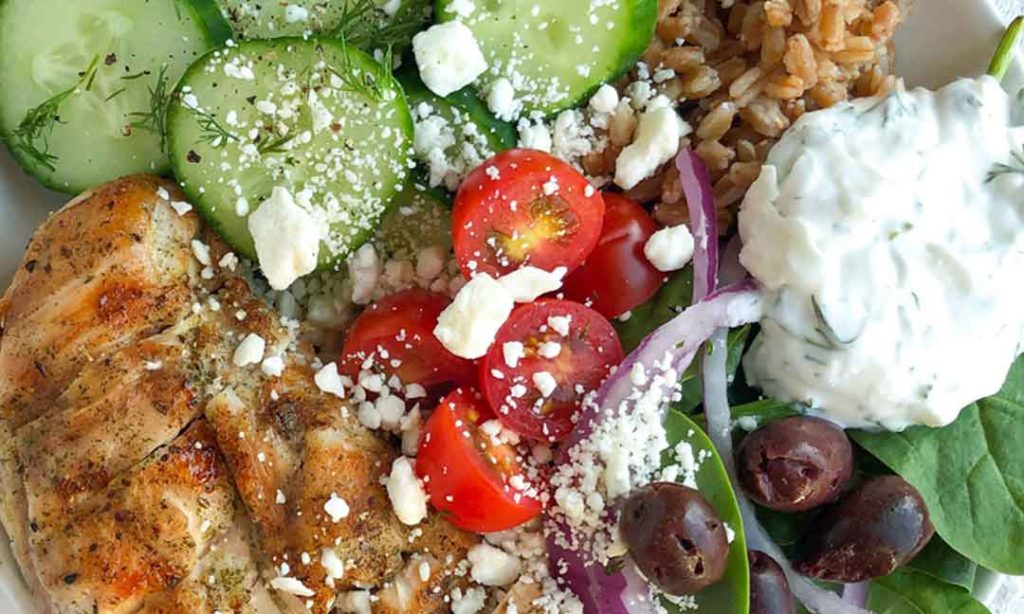 Meal prep is the furthest thing from complicated – it is meant to make your life easier! I love to prep lots of basics that can be mixed and matched. I usually prep some cleaned and cut vegetables, a whole grain or starch (like quinoa, farro, or potatoes), and some protein that I can throw in a bowl with a tasty sauce! These Greek Meal Prep Bowls are low effort but BIG flavor!
Chicken breast (seasoned with Primal Palate super gyro seasoning and then grilled)
Feta crumbles
Kalamata olives
Sliced grape tomatoes
Sliced red onion
Sliced English cucumber
Fresh spinach
Cooked farro
Homemade tzatziki
1 individual container 2% plain greek yogurt*
2 cloves garlic, minced*
A squeeze of lemon*
1 tbsp chopped fresh dill*
Mix garlic, lemon juice, and dill into greek yogurt. Use as a dip for vegetables, chicken, or as a salad dressing!
Other easy meal-prep-able recipes from some of our favorite Registered Dietitians:
Breakfast < Scrambled Egg Muffins from fANNEtasticfood 
Lunch < Tex-Mex Quinoa Salad from The Real Food Dietitians
Snacks < Chocolate No Bake Peanut Butter Balls from Fit Foodie Finds
///
Want to learn about Nutrition Coaching? Schedule a free 30-minute Nutrition Coaching Strategy Session to speak with our Registered Dietitian about your health goals and see if nutrition coaching would be a good fit for you.
Schedule a FREE 30-Minute Nutrition Coaching Strategy Session